Bunk beds have been around for ages as they are associated with several benefits like saving space and money and providing extra storage. They are the classic bunk beds that have been around for quite a while and will be here for a long time to come.
However, in recent times, post the millennial date, the market has seen various new trends in bunk beds- one of them being bunk beds with slides.
This fancy new trend has got the kids extremely excited and their parents worried as there seems to be some room for accidents when slides are included in bunk beds.
Well, we understand children love sliding out of bed in the mornings, and it's a great way to welcome the day with smiles and laughter. But with the joy that comes along with having a fun slide bed, there are also understood safety concerns.
Best Bunk Beds with Slide: A Comprehensive Review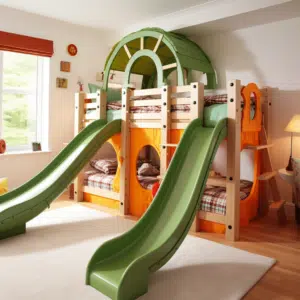 Luckily, we reviewed some of the best bunk beds with slides that meet or exceed federal safety standards for kids' furniture.
These models are developed with space-saving designs alongside a very nice setup and are amazing for the price.
So if you want to take your kids' bedroom to the next level, without skimping on quality or safety, these wonderful beds can be adorable gifts for youngsters.
Princess Twin Castle Loft Bed and Slide with Tent and Slide
Lovable gifts for little girls, this Princess Twin Castle Bed With Slide and Tent boasts durable microfiber with an adorable mix of purple, pink, and white finish. It is also enriched by a Prince Tower with a peek-through and fold-down window cover.
The whole thing is beautiful, so your daughter will feel elated. You'll love that the slides and stairs can be installed on either side.
Also, the loft is accompanied by easy directions for quick assembly, and the quality of the bed is excellent and seems to remain sturdy for years to come.
You might want to read the measurements on the bed as it can be a little bigger than anticipated, but if you have a sizable room, it will fit perfectly with plenty of room left.
Max & Lily Twin of Over Twin Low Bunk with Slide and Pink Curtains
Plenty of room for sleep and play is now a win-win with the Max & Lily Twin of Over Twin Low Bunk with Slide. It's a perfect combination of functional and fun that both kids and parents love.
Max & Lily kids furniture offers stylish and affordable play beds and incredible options and add-ons to perfectly fit your needs. Whether you're looking for a low loft bed with a slide or low bunk beds with bottom bunk beds curtains, you'll find a perfect design that inspires creativity and fun.
Only 50 inches high, this space-saving low bunk design is suitable for smaller spaces and perfectly safe for younger children. It also has 14-inch tall guard rails that fit standard twin mattresses up to 8 inches thick. Plus, it doesn't require Bunkie boards or box springs.
The super fun slide is perfect for playtimes while the angled ladder comes in handy with rounded edges for added comfort and easy climbing. Solid, knot-free New Zealand pine wood adds strength and stability.
Furthermore, when it's time to play, this bunk bed's space-saving design frees up plenty of floor space since you can stack two sleeping surfaces. And most importantly, this product meets or exceeds federal safety standards for kids' furniture.
Twin Over Twin Bunk Bed With Slide
If you're looking for a great product that provides play space in a kid's bedroom, the Twin Over Twin Bunk Bed With Slide is an easy recommendation. In fact, there is a tent under the bed that gives plenty of space to play.
It measures 78 inches wide, 91 inches deep (with a slide), and 43.25 inches high and it doesn't require a box spring. The built-in ladder and staircase provide easy access to the top bed, while the two drawers located beneath the attached staircase allow for ample storage for your little one's toys and bedding.
We also love that this bunk bed is designed with a clean silhouette and a hue of elegance. It suits all styles of home decorations and complements the look of any bedroom. For added fun, the slide can be put either left or light. Overall, it's not the most affordable choice but it's worth every penny.
Merax House Shaped Solid Wood Bunk Bed With Roof, Window, and Slide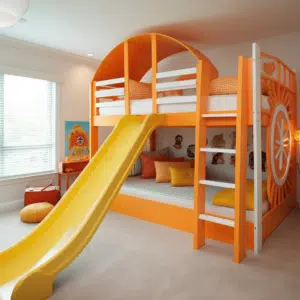 The Merax House Shaped Solid Wood Bunk Bed does not only save space; it creates an exciting atmosphere enabling you to take your kid's bedroom to the next level.
Featuring a traditional house-shaped silhouette, this imaginative bed is equipped with a whimsical sky roof and one small window that simulates a playhouse for a fun bedroom atmosphere that your child will love.
This best bunk bed with slide is constructed with sturdy pinewood that boasts a natural wood grain for enhanced stability and durability. Plus, it comes with plywood that supports slats, so you don't need to prepare box springs for foundations.
With the sturdy pine frame, guardrails, and a ladder, this bunk bed provides a safe space for your kid to get a good night's sleep. The attached slide adds fun to the child and complies with interactive play needs. The side ladder is also very efficient for kids to climb up and down.
DHP Junior Twin Metal Loft Bed With Slide Multifunctional Design With White Slide
As the name suggests, this is a wonderful bed with a ladder and slide, which is quite possibly the dream of every child. You can count on the space under the bed as extra storage and leave the rest of the room as an ideal space for fun.
The whole set fulfills all safety requirements and is amazing for the price. The slide itself is made of metal so it's pretty fast, strong, and durable. Also, if you don't want to spend a lot of money on the bed but need something durable, and awesome, this bed is for you.