It may not be the most spectacular purchase you've made, but the best silicone toilet brushes are functional and stylish. At first glance, most toilet brushes look alike. Consider the product's materials, features, and candy design before adding it to your cart.
Toilet brushes frequently come into contact with wetness and cleaning chemicals, so choose one that can withstand both. Silicone bristles are scratch-free, simpler to work with, and attract fewer bacteria than plastic, thus some firms are using them for handles and brushes.
Best Silicone Toilet Brushes: A Comprehensive Review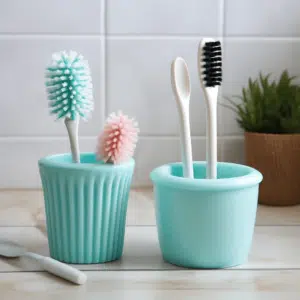 So what are the best silicone toilet brushes that you can get? Well, that depends on a few factors such as budget and preferred cleaning method, but some definitely stand out from the rest: Here are the best silicone toilet brushes that you can buy:
BOOMJOY Toilet Brush and Holder Set, Silicone Bristles Bathroom Cleaning Bowl Brush Kit with Tweezers – White
If you're all about reducing the ick-factor as much as possible, then be sure to check out the BOOMJOY Silicone Toilet brush. This toilet brush offers excellent cleaning performance and is very easy to keep clean too.
Whether you are a housekeeping supervisor at a high-end resort, or you have a toilet that grows mold, this product will save you so much frustration.
The brush is made of a material that resembles a rubber-like material that gets up into and in between the water outlets under the rim so you can remove all residues. Plus, the brush is clean right up like new.
Sellemer Toilet Brush & Holder
If you're looking for a silicone brush that will get into tight corners, the Sellemer Toilet Brush & Holder is an easy recommendation.
What you get here is a silicone brush that doesn't hold water like the typical plastic ones. It also boasts an extra-thin profile that makes it easy to reach into all those awkward corners.
The base of the holder features handy slots to keep things sanitary- not forgetting that the product is available in three colors: white, rose gold, and silver.
Overall, this brush is awesome. Super effective and doesn't splash or spray nasty water while you are scrubbing. 
The design also allows you to hide it out of view as it is slim and sticks to the wall behind/beside the toilet. So you'll have nothing nasty sitting on the tiles and guests hardly notice it.
SetSail Silicone Toilet Brush Toilet Bowl Brush and Holder Set Toilet Bowl
If you're someone who likes things that work and look good, this scrubber with silicone bristles naturally checks those two boxes. A toilet cleaner is a timeless piece but this one has been streamlined to look more modern.
In addition to looking good in your bathroom, the brush actually works properly, which considering the need, is very important. The handle is stiff but not too rigid and the brush is flexible but not flimsy.
Coming down to design, the whole thing is small, light, and does not occupy much space. A brand new design that's easy to use. Also, you can have it stand by itself as the holder base of the toilet brush can prevent the sewage from dripping and leaking.
Lefree Silicone Toilet Brush with Holder
This Silicone Toilet with Holder from Lefree is yet another pleasant surprise. The material of this brush is simply made of genius. It is durable and sturdy enough to scrub everything clean, yet leaves no marks.
The brush itself is so much easier to work with compared to traditional toilet brushes. The stand is designed to allow water to drain rather than sit, leaving the entire situation feeling totally cleansed.
We also like that it can be hung on the wall behind the toilet, out of sight but close. Besides durability, this silicone brush scrubs well, is easy to clean, and doesn't retain odor or bacteria. The toilet brush holder collapses so you can drain and clean the dripping water collection bottom.
ASOSBEIGE Toilet Deep Cleaner Silicone Toilet Brushes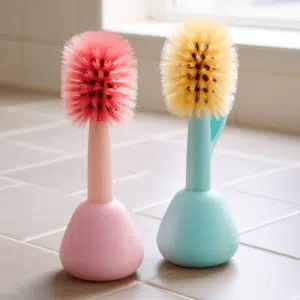 This bristles-on-wire scrubber is pleasant and durable if you're tired of ones that bend and scrape the bowl's porcelain. The ASOBEAGE Toilet Deep Cleaner Silicone Toilet Brushes can get under the rim and into the bowl, whereas bristle brushes can't.
It takes little space and may be installed 8 inches high on the wall in a corner, scarcely visible and off the floor. This is crucial for smaller bathrooms.
In terms of design, this best silicone brush looks more modern and luxurious than other brushes. It is narrow and small and can clean the toilet in almost every place. Perhaps the best thing about it is that the water just slides away rather than staying.
The ASOBEAGE Toilet Deep Cleaner Silicone Toilet Brushes are more modern than traditional brushes. This is made to tackle such difficulties (presumably because round takes up more floor space) and has a unique design. Super stretchy and cleanable.