If you're someone who loves sweet chili sauce, then you already know that there's a wide variety of brands in the market, where some are better than others.
This makes it difficult to find the best one for your preferred taste and the ingredients that make the chili sauce best for you.
Luckily, we haven't only gone through numerous opinions of people about the right chili sauce, but we researched well from different sources and websites that know much better about this sauce.
These sauces are generally easy to find in grocery stores or online. They provide a sweet flavor with a mild to medium amount of spice that complements many dishes, making them best for cooking, dipping, or marinating your favorite foods.
Here are the best Sweet Chili Sauce Brands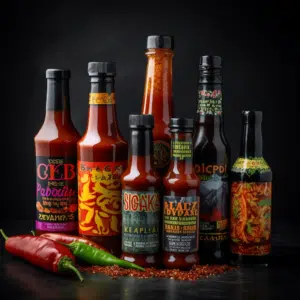 Thai Kitchen
Are you looking for an all-purpose sweet chili sauce? Well, you'll be grand to know that the Thai Kitchen chili sauce comes ready to eat and can be heated with some of your favorite dishes.
It is often used on shrimp, chicken, and veggies but you can always use is a dipping sauce.
The ingredients of this best sweet chili sauce brand include pure cane sugar, garlic, pickled red chili pepper, rice, vinegar, salt, xanthan gum, modified starch, and water.
One impressive thing is that the sauce contains no artificial colors or flavors. For someone looking to avoid gluten, Thai Kitchen is a gluten-free product.
Blue Dragon Sweet Chili Dipping Sauce
For a rich blend of chilis, garlic, and a touch of sweetness, be sure to consider the Blue Dragon Sweet Chili Dipping Sauce.
It's excellent for dipping anything into spring rolls or any snack that calls for some kick. Moreover, the sauce boasts the right balance, meaning you won't feel overwhelmed by the heat. This great chili sauce is perfect to add on top of noodles too.
The Blue Dragon Sweet Chili Dipping Sauce was made in Thailand utilizing traditional methods. Contains only natural substances. The product has no artificial flavors, colors, or preservatives.
Trader Joe's
While most sweet chili sauces are generally sweet, they still lack the spice of a traditional Thai chili sauce. That brings us to the Trader Joe's Sweet Chili Sauce- a different product that boasts just the right amount of sweetness and spice.
It's one of a kind condiment perfect for many meals, particularly stir-flies. If you love spicy food, you will be impressed. The product adds a nice kick that makes your dishes more exciting, yet it's not overpowering.
This incomparable sauce goes great with tempeh, tofu, seitan, and obviously simple vegetable stir-fries. Also, you can count on it to add some zest to sandwiches or wraps rather than mustard or mayonnaise.
Frank's RedHot
Frank's RedHot is yet another excellent brand, best-known for its top-selling hot sauce and Buffalo wings sauce. In addition to that, they make a high-quality sweet chili sauce, perfect for use for dipping or as a recipe ingredient.
Note that most sauces out there are not made with fresh chilies. They are typically made using extracts or powders which are associated with high content of sodium and preservatives.
But Frank's RedHot is different. It is actually developed with real fresh peppers, so you get to enjoy the entire flavor short of the burn.
One impressive thing about this zesty sauce is that it tastes veggies, shrimp, or chicken- sure to make eating healthy fun again.
Reading on the company's website, the product is pulpy and zesty with a slightly sweet flavor that also makes an awesome marinade for your awesome dishes.
The manufacturer uses minimal ingredients for this best sweet sauce, which include water, red chili peppers, sugar, salt, acetic acid, garlic, and modified food starch. What's better, Frankie RedHot Chili Sauce is gluten-free.
Panda Express Gourmet Chinese Sweet Chili Sauce
You've probably heard about Panda Express restaurant, the brand that serves tasty Chinese food. The good news is that you can now obtain a piece of that Panda Express tastes at home with this sauce.
In fact, this is a delicious alternative to traditional table sauces that are often in sugar and low on flavor. It adds bold spiciness and tangy sweetness to your preferred food without adding any unwanted calories. Thanks to its no fat content.
This sauce contains no MSG, except for what is naturally found in soy sauce. It also contains no high fructose corn syrup. It includes not only sweet chili sauce, but also orange sauce, stirs fry sauce, and teriyaki sauce.
Mae Ploy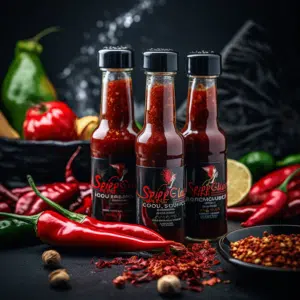 This is yet another favored option for its value and taste. Mae Ploy is relatively easy to obtain in groceries stores such as Kroger and Walmart.
It is often found in a 10 fl oz bottle, but it certainly can be obtained in bulk up to 108 fl oz jug.
The key ingredients include sugar, pickled red chili, garlic, vinegar, salt, water, and xanthan gum as a stabilizer. The company's website states that there are no colorants or preservatives added.
Kikkoman
Kikkoman is popular for its best-selling soy sauces in America and abroad. The company offers many other high-quality food products apart from soy sauce.
Some of these products include soy milk, panko, seasoning mixes, rice vinegar, and obviously sweet chili sauce.
This Gluten-free sweet chili allows you to enjoy the flavor and spice of your favorite Thai cuisine while still ensuring a healthy lifestyle.
That means this delightful condiment may add spice and flavor to any dish without compromising your health. The product is sweet and spicy with garlic and chili. Perfect for dipping cooking or dressing.