Glass block tiling alternatives has been a primary of present-day architecture from the day. They continue to seize the designer's thoughts, including builders and home users. Their smooth, impermeable nature makes it a perfect alternative to ceramic tiles in a shower.
Your bathroom may have a glass block wall, and you only want to give it an upgraded, fresh look. Most of the time, you can tile over old tiles. But does this rule of thumb apply to tile over glass blocks? Tiling over a glass block isn't a good idea and is a no to some people. However, it isn't impossible either if you want to try.
In this piece, we look into the glass block and various ways you can use it to accentuate your bathroom to attain your desired taste.
What Is A Glass Block?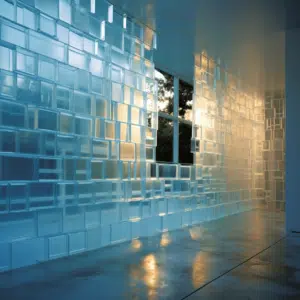 A construction material created of transparent or painted glass compressed into a hollow box shape or solid blocks. Some glass blocks have patterns and sparkle while permitting natural light to flow via the walls into the room yet still maintaining privacy.
However, it is essential to note that you cannot trim glass blocks, and their waterproof nature makes the mortar work difficult, thus requiring time and patience for the outcome to be perfect.
Glass tiles/ blocks/ bricks serve many purposes, such as a shower wall, converting an outer wall into a thick window, or acting as a room partition.
Can You Tile Over Glass Block? Easy Steps on How to do it
A tile over glass tops is a decorative feature of any space in your house. It truly converts a dull palette into a masterpiece of art or ordinary into excitement. Below are the easy steps on how you can achieve this:
Supplies:
Tile

Sander / Sandpaper

Flat towel

Level

Tile Spacer

Grout sealer

Grout trowel
Step 1: Priming the Glass
After putting the tools and products, start by priming the glass. Take an electric sander or medium-grade sandpaper. However, be cautious when using the electric sander as it doesn't need excess pressure on the glass. Therefore, beginners should use manual sanding using sandpaper.
Step 2: Apply the Grout
With the trowel, put a small amount of grout on the glass part where you will install the tile. If there are any lumps in the grout, smoothen them out using the trowel while making a rough surface through the lines in the grout.
If you're using individual tiles, place spacers between squares as you begin creating the first row of tiles. This step won't be required if you use small mesh-supported tiles.
Step 3: Leveling of The tiles
It would be best to create an actual appearance by keeping your tiles straight. Set the level on top of the first completed row. If the result is imperfect, remove them as the grout is still wet and use a piece of wood to shim the surface.
Due to the expertise in cutting glass, the chance of the tiles leveling is very high on your first application.
Step 4: Wipe the Extra Grout
Using step 3, install all the tiles, ensuring they are at a level. Wipe the excess grout that leaks through with a damp sponge/rag.
Step 5: Applying the Grout Sealer
With either a clear or colored grout, cover the whole tiled surface using a flat trowel. Using a damp rag, wipe the extra from the tile's face with the rest retained between the tiles making a seal that secures the surface and the tiles.
After 24 hours, apply the grout sealer as an added protection.
Tips
Ensure you acquire a primer to review the tiles and glass vinyl ext.

For tile selection, go with what you prefer, regardless of the size.

Kindly never use silicone.

Ensure your glass is well cleaned with sugar soap, then dry and smear it with methylated spirits

Above all, you need patience during this process as it requires expert skills for a perfect outcome.
What Are Other Alternatives To Glass Brick Windows?
Glass block windows are made of glass blocks and are common in basements and bathrooms due to their privacy but still allow natural light. They are either clear or frosted in various sizes and shapes.
Because of some of the downsides, such as being expensive, hard to clean, and requiring expertise, among other reasons, you may opt to go for its alternatives. Below are some of the alternatives for glass block windows.
Wooden Windows
If you're looking for a traditional look, stained or painted wooden windows are the best option, and they are eco-friendly.
Pros
Wooden windows are versatile as they complement any home style.

They're energy-efficient compared to glass brick windows

You can paint them to match your exterior décor
Cons
Have demanding maintenance than that of glass block windows

They are prone to damage.
Vinyl Windows
They are available in various styles and customized to fit your needs. They have a low maintenance cost and are energy-efficient; thus, they assist in keeping your home cool during summer.
Pros
They are durable as they withstand the elements

Efficient in terms of energy

They are good insulators, especially during summer
Cons
Hard to clean

Traps dust and dirty quickly, making your windows cloudy with time

Susceptible to warp, crack, and fade over time
Fiberglass Windows
For those who love durability with low maintenance costs and fade and warp resistance windows, Fiberglass is the best for you.
Pros
They are the perfect substitute for glass block windows

Their installation is easy

They are good insulators

They come in various styles and colors, thus presenting you with endless opportunities to blend with your home's style.
Cons
They are costly

Not as long-lasting as glass block windows

Challenge to clean
Acrylic Windows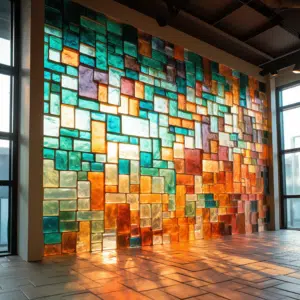 They are formulated from plastic that is 16 times stronger than glass, perfect for traffic areas or windows or windows prone to breakages. They come in a wide range of colors and tints.
Pros
Easy to clean and maintain

Acrylic windows are lighter than glass block windows.

Offer better insulation compared to glass windows
Cons
Prone to scratch

Not as durable as glass windows.
We can say that you can tile over a glass block, but it is good to note that this is a delicate process.
The glass nature doesn't make it any easier, as earlier explained. However, you can get excellent results with a good choice of adhesive, patience, and skills. You have other options to consider for those who would like to upgrade from glass block use and can't manage the tile installation. Ensure you adhere to the steps given for a fantastic outcome.