Why are blinds so expensive? This is a question that is always lingering in the back of the mind of every new homeowner or anybody looking to do a house makeover.
Like any window treatment, blinds play a major role in your home's function and aesthetic appeal. As a homeowner, blinds are a significant investment you hope to make right without breaking a bank.
Reasons Why Blinds Are So Expensive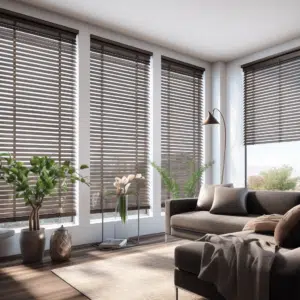 But why are blinds so expensive, you wonder? There are several reasons for the price tags you see on these items.
However, it all comes down to quality, type of material, cost of installation, and hardware warranty. This article will help you understand where the money goes and why they are worth each penny spent.
Let's delve deeper into a number of reasons why blinds are very expensive:
Blinds Features
With different types of blinds come a variety of features. While people usually buy blinds to block out light and increase privacy, additional features make your home smarter and more convenient but at a higher price.
A good example is motorized blinds. These blinds are the most expensive due to their ease of use, thanks to the remote control.
With just a fingertip, you can adjust your blinds from the comfort of your bed or couch. Furthermore, they are built to last, so no worries about their durability.
While you don't necessarily need all these features in window treatment, having them increases the value of your home, thus making them a long-term investment.
With the different brands and types of blinds available, the features are endless. You should also consider the safety of your children and pets when it comes to blinds with visible cords.
Additionally, the type of materials also influences the pricing of the blinds. Although buying the most expensive blinds does not necessarily mean getting the best option, it most likely means having the best-looking product.
When choosing blinds for your home, consider the features and design that fit your space's style and function.
Once In a While Purchase
Generally, items that you frequently buy, like clothing, are more affordable. But how often do you purchase blinds?
You might even inherit one from a previous owner when shifting homes. Replacing blinds only happens when you are giving your space a refresh or simply upgrading your taste.
The blind manufacturers understand these items are long-term purchases, thus ensuring they make a premium during the sale.
Besides, the products are highly durable, lasting ten years or more. Anything that lasts that long is costly.
It is logical to keep such a significant investment in an excellent condition to get value for your money.
Quality
Another explanation for why blinds are so expensive is their high quality. These products can last many years in service due to the quality of the materials.
With blinds, you get what you pay for. Buying quality blinds might seem expensive, but it will save you money in the long run.
When selecting quality blinds, you need materials that can effectively protect your home.
This is also the time to consider the features you want. Since these products are used daily, they should withstand frequent pulling and even pets' abuse. Cordless blinds are a great option for people with kids and pets.
Another factor to consider is the UV rays. Continuous exposure to UV rays can fade your flooring, furniture, and even paint works.
With high-quality blind materials, you can block out the intense sun and protect your belongings. Blinds also control the temperature of a room during winter and summer, thus energy efficient.
These benefits depend on the high quality of blinds. All in all, the higher the quality of blinds, the more money you spend.
Whether you are looking for safety, convenience, temperature control, or protection from UV rays, the quality of the material matters. Are you willing to pay for it?
Cost Of Labor
The pricing of blinds is sensitive to the window size, which increases both labor and material costs. Also, custom blinds are more pricey than ready-made ones for obvious reasons.
With ready-made blinds, you don't need any additional labor, thus the lower prices.
However, you have limited options to match your needs. On the other hand, custom blinds are expensive, but you have endless varieties to choose from and style your space.
With custom blinds, there is a lot of labor involved in the production. First, you need a professional to come and measure your windows correctly. From there, the windows are designed and tailored to your specifications.
In short, making custom blinds involves more people and more time which translates to high production costs. In the end, you are the one who ends up paying for it all.
If you have a tight budget, opt for non-custom blinds. Unfortunately, some homeowners don't have the choice because their windows aren't a standard size. They cant use the one size fit for all blinds but only custom blinds.
Installation and Warranty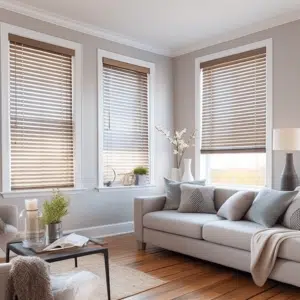 The cost of blinds also includes other hidden charges such as warranty, taxes, and even installation fees. Blinds can be a safety hazard when not installed as per child safety laws.
You want a professional to handle it to prevent any possible risks to users and the product itself. For this, you have to spend money.
Since these products are expensive, you should be sure they are durable. The durability of blinds reflects on their warranty, and so does the price.
Highly prized blinds contain premium quality materials, excellent features, and a good warranty.
Final Remarks
Blinds are an excellent investment in any home regardless of the overwhelming price tags.
They add privacy, aesthetic appeal and control light and temperature in your home.
While blinds are expensive window treatments, you will find the pricing fair considering their quality, durability, amount of labor, and time invested in their production.
Other factors affecting the pricing include the size and number of windows, types of blinds, features, and even installation fees. It is advisable to hire a professional to assist you when shopping for blinds. Quality blinds add value to your home, save energy, and are a WOW factor.