Shut down your neighbors Airbnb: The constant flow of strangers, loud music parties, and vehicles parked near your home are genuinely frustrating. You may be wondering how this is even possible. With the world evolving and a lot of business done online, people are now moving away from spending in hotels to renting places out to vacationers via a site like Airbnb.
Airbnb, whose meaning is Air bed and breakfast, is currently on the rise. It is an online marketplace where travelers book rooms in community houses instead of hotels. Therefore, it is more affordable and convenient and a way of making some extra cash for the host.
Join me as I take into the world of Airbnb and, most importantly, the steps you can follow on How To Shut Down Your Neighbors Airbnb if it is causing you constant disturbance.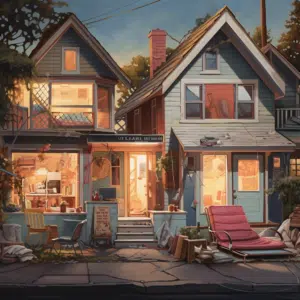 Running an Airbnb What Does It Mean?
You need to sign up for an Airbnb account to be eligible to run and host. It will enable you to rent out your space/room for travelers to stay aboard.
Once you get a client, a certain percentage of the price goes to the Airbnb Company. In a nutshell, to run an Airbnb means you will be renting part of your house to strangers.
As an Airbnb host, you need permission from your landlord (if you are renting), your community association (if you live in a condo/suburb), and your city and Airbnb.
Your neighbors can run an Airbnb, too, based on their choice. The only downside is the negative effect of strangers living around like noise pollution, wrong trash waste, etc.
Hosting on Airbnb is like any other business. Therefore, there is a lot of due diligence to become a legal host, fully abiding by all rules and regulations of their community and city.
How To Shut Down Your Neighbors Airbnb
It is justifiable to shut Airbnb in your neighborhood or building if you're experiencing extreme noise disturbances like loud parties. Airbnb is an incredible idea, but capitalism's logic is the reason it affects serenity. Luckily, the law has got you.
It is hard to control the behavior of strangers who happen to be temporary- it can be annoying. The guests might end up staying late, playing loud music and so on; here are some guidelines to follow to shut your neighbor's Airbnb:
Informally Address the Issue with Your Airbnb Host Neighbor
Getting into an argument with your neighbor isn't fun, and it can result in future grudges, and you wouldn't like that to happen. The owners are not aware of the issue if they aren't around to attest to their short term client's behavior.
The most effective and quick way is to speak to your neighbor about your concerns politely and, if the neighbor is empathetic, offer suggestions like setting up house rules that the tenants will accept.
If you both reach a satisfactory conclusion, your work will be complete. But if the efforts prove futile, there is hope that you can file a complaint with your Airbnb Website or your municipality, where legal action against them will take place.
Check the Municipal laws.
In some states, short-term rentals are controlled. First, check that your neighbor's Airbnb is legal. Laws keep on changing daily, so research in your state by visiting your city's government-run website and searching for "Airbnb" to find resources that will keep you posted on the present regulations governing Airbnb.
A quick and more straightforward way to confirm your neighbor's Airbnb state is from their ad under the description, there should be an attached license number at the very bottom. If it is lacking, there is a high chance that they are taking shortcuts.
Check the Community Laws
When it comes to communities, apartment buildings, and other residential properties. Airbnb permits them to set their own rules and regulations.
Depending on where you live, for instance, if you live in an apartment, consult with the company that owns it. Connect with the homeowner's association if you live in a condominium community.
Whichever residential property you are in, contact the community association and enquire more.
Report the property to Airbnb
Having confirmed your neighbor's Airbnb is 100% legit, file your complaint with the website because they respect all their neighbors, no matter where you live. If there is any disrespect, it is solid ground to shut down.
Airbnb has a neighborhood support team to assist you with your concerns. Visit their-(neighborhood support page) to fill out a form that will open up a case.
Take note that you will be required to provide the host's details like the listing number/address, send a message to the host, and send another message to Airbnb explaining all the concerns. After that, the site will send you a confirmation email and commence working on your suit.
File A Lawsuit
A lawsuit is a final option when all other mechanisms have failed. It may be a costly and risky exercise, but worth trying. Contact a lawyer who will proceed with a nuisance or breach of contract lawsuit. Dealing directly with the law is a long and expensive process-but, it would be your last option.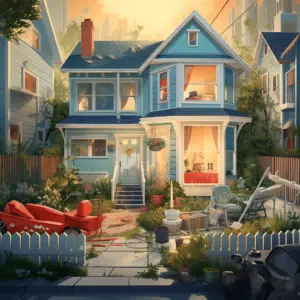 Common Airbnb Complaints
Shootings

Rowdy parties that involve fighting and screaming

Excessive noise

Garbage left behind from parties.

Drug use outside

Lots of cars on the property and on the road
Airbnb Laws and Regulations: Take Note of These
There are several resources neighbors can utilize to raise their concerns about Airbnb that create havoc. They can complain directly to Airbnb, community associations or their city.

Excessive noise, safety issues due to many unknown people in the area, and dealing with renters one on one are some problems that might lead to Airbnb closure.

You are allowed to sue either as a private nuisance ( when a person interferes with the enjoyment of another person's land) or public nuisance( is when a neighbor causes a disturbance that endangers the comfort of the public )
Your serene neighborhood can remain so even with Airbnb guests. The suitable measures by the host during their stay, like not leaving them alone, will help monitor their actions and why you should engage them in a candid conversation before reporting them to the relevant authorities.