Pendant lights are an excellent way to add style and drama to your room. They serve as a focal point and look amazing too, especially over the dining table and countertop.
One thing that you should keep in mind, however, is that the perfect height and spacing for pendant lights over your kitchen island is as important as the style of lighting you've got. Unfortunately, positioning pendant lights can be a little difficult.
It is not just about fixing the light directly over the island; you will also have to make sure it matches the overall theme of the space. Otherwise, the pendant lights will look out of place and awkward.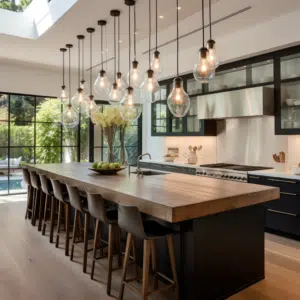 Should Pendant Lights Be Centered To Kitchen Island?
Well, the general rule of thumb is that pendant lights should be centered on a kitchen island. However, it is totally cool to have them off-center if they are appropriately positioned for the overall kitchen. This includes the size of the kitchen, the type of pendant light, and other lighting fixtures in the place.
These are some of the major factors that dictate whether or not you should center the pendant lights over a kitchen island.
So, How High Should You Hung Pendant Lights Over Kitchen Island?
The normal guideline is to hang a pendant 30-36" above your countertop. Ideally, there should be 30-36" between the top of the counter and the bottom of your pendant. Keep that in mind (as well as the recommendations discussed thereafter).
You can always take the liberty to make slight adjustments to match your needs. Consider your height, and your lifestyle, and tweak the guidelines a bit where necessary.
When (and When Not) to Center Pendant Lights Over Kitchen Island
As previously mentioned, most kitchen islands will benefit from centering the pendants across the width of the island. If you're looking up to the most evenly spread light, or the side of your island is one of the main focal points, centering the pendants can be a great idea.
That said, there are some cases where centering your pendants might not be such a cool option. These scenarios include:
When you want to move the light's intensity to a specific section

When you already have enough overhead lighting in the kitchen
If you're looking forward to an increased amount of light in the kitchen, as opposed to the sitting area, you may want to keep your pendant lights centered only one way and installed closer to the kitchen side of the island.
Moreover, if there's already a great deal of lighting in the kitchen, then you have plenty of options on how to place your pendant lights. In such cases, the lighting position will not matter as much, meaning you can choose whichever positioning you wish.
How Many Pendants Should Place Above Your Kitchen Island?
We would be happy to give you a cut and dry works-in-all-situations, but we'd be doing you a disservice as there are various factors that need to be considered. The main factor in knowing how many pendants to place above your kitchen island is the size or rather the length of the kitchen.
This includes the ceiling height and how much light is needed. You might want to consider placing more pendants if they are your primary source of light with no recessed lighting. The size of the pendants themselves also makes a difference.
In the vast majority of kitchens, two pendants might be just enough. In case your kitchen island is on the longer side, normally opting for substantial pendants and sticking with a couple of them can be a great idea than adding a third pendant. If your kitchen island is pretty long, say 8', two pendants might just be the right choice even with pendants that aren't super large.
Things to Consider before Centering pendants Lights over Kitchen Island
Size of the Kitchen Island
When deciding on the perfect space for your pendant lights over a kitchen island, be sure to consider the island itself. You will also need to determine whether or not it is compact enough where being off-center will look strange.
Usually, a larger kitchen island makes it far more acceptable to have the lights off-center by a bit. That said, a more compact kitchen island is likely to look out of place if the pendant lights are not in the center.
All of these details need to be considered when it comes to getting things right as we can't just assume all kitchen islands are the same. Some are smaller, some are bigger. This can impact whether or not you center the pendant over top of a kitchen island.
The Type of pendant Light
You will also have to determine what type of pendant is best for you. If you want a singular light, it can be a little harder to get away with an off-center layout. This is due to the fact that the view will only be drawn to that pendant light and almost nothing else.
Meanwhile, 3-4 pendant lights can become much easier to set up off-center from the kitchen island because of the way they are spread out and the fact that they are even on top of a kitchen island. You will have more options to consider within such a case.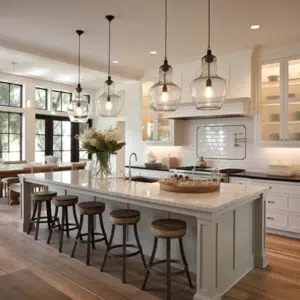 Space Efficiency
The aspect of space-efficient is a major consideration when planning the layout of your pendant lights in the kitchen. The point here is to make sure they serve well with the entire space and not just the island. In some cases, having them centered can make everything else look imbalanced. Thus, being slightly off-center can bring everything back into place.
It is important to look at the overall picture. This includes taking a step back and figuring out how the pendant lights will show up for the kitchen as a whole. Also, be sure to think about how much light coverage is necessary. To illuminate the kitchen island and everything else in the space.