Budget-Friendly Tips, Nothing invites you in to relax other than a coastal vibe living room. Even though you don't have a budget for the front views, a front style isn't impossible! A beach-themed living room on a budget is attainable by paying attention to the correct design elements. 
In this piece, we will share a few design tips on achieving coastal living on a budget and creating an atmosphere that brings you to the oceanfront all year round. Let's get started.
Beach-Themed Living Room On a Budget: Design Tips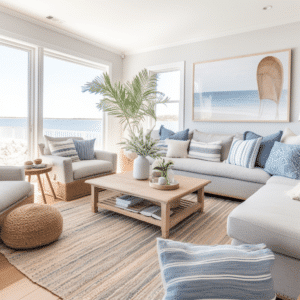 Beach Floor style
Large sisal or jute rug is a perfect choice for the natural beachy feel. The rugs from this type of fiber are affordable compared to wool or nylon; hence acquire one that is large enough for your space. The rugs are exceptionally beautiful, perfect for families, and easy to maintain.
A sisal rug is warm, setting the stage for an elegant coastal living space due to its sandy tone. If you find the sisal rug isn't to your taste, try a little DIY and paint a floor cloth (canvas, paint, and excellent water-based polyurethane to create an appealing floor cloth that will last for a long time.
The rug is budget-friendly with design limits and colors, and you can stencil your design. With a bit of creativity and inexpensive hardware store supplies, you can have a customized rug that sets the tone for a coastal-themed living room.
Beach Color Palette 
White is the predominant color in the coastal-the living room, but there are no restrictions. However, one or two colors are budget-friendly options to go coastal.
One way you can spruce up your space without breaking your arm is through paint. Paint is versatile because you can apply it to walls and furnishings. Blue and white shades are famous for the modern beach look. 
However, you can explore other color spectra like gray-green of weathered wood, the off-white of a sandy beach, light amber of sea glass, greige (combination of gray and beige), or green of kelp forests swaying softly in the sea.
Get inspired by looking at the beach photos from around the world and check out the colors of nature. Keep low on dark stains on your walls if you have a smaller space.
The primary factor in a beach home is the huge windows that allow natural light and make the best use of the beachfront views. Hence, it is best to keep your window coverings light and airy to benefit from the natural light.

Install a large mirror to enable bounce light around the space, emanating an illusion of more windows. Have plenty of lamps and good ceiling lighting in your room.
Accessories 
Jewels of the home can burst your budget if not handled with caution, and you can easily entangle yourself. Budget-Friendly Tips avoid this mistake by planning early on the things you want. Accessories turn a flat space into a fancier room, and they capture the beach look on a budget.
With a beach-themed living room, start with a dream board of what you prefer. Found objects are free; scour the shorelines for a great caption. Such as collecting items you love within your budget.
Select one statement piece and a few accents keeping in mind the rule of "quality over quantity." Although you don't have to break your bank, you don't have to fill up your space with cheap items that look cluttered. 
Objects like sea glass, starfish, pebbles, and driftwood are finishing options that accentuate your living room. Remember, the rule of the thumb is to keep it simple.
Get three affordable sea glasses of various sizes. Fill one with long sticks of driftwood, and the other two filled with sea glass on a cabinet evoke the coastal cottage dreams to life throughout the room. In addition, get a pretty wooden bowl and fill it with seashells on a coffee table.
Décor-Source
Get inspired by the ocean by filling your space with décors like wall art and vases- flaunting shades of blue, aqua, and green while balancing the cool pops of color with organic textures such as sisal and jute.
Add comfy pillows in linen or canvas, a couple of yards of fabric, easy to DIY with inexpensive pillow forms, and acrylic paint for a great themed design.
Budget-Friendly Tips, Some throw pillows, a rug, and textile in navy blue are a visual image of the ocean.
Furniture Beach Style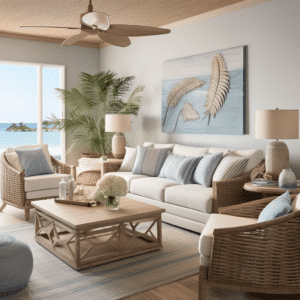 Comfort should be your top priority in a beach-themed living room. Invest in a good sofa, a couple of chairs, and even one or two-floor ottomans for maximum comfortable seating to chill and relax with friends and family.
Slipcovers and soft furnishings
A light sky blue denim or chambray slipcover will offer an instant beach house mood. It is soft and comfortable, gets even softer with washing, turns into a genuine budget buddy, and is easily washable.
Soft off-white muslin is affordable, durable, comfortable, and easy to wash for fabric. It is readily available at the stores, thus jazz up your sofa with throw pillows at a pocket-friendly price. 
There are many ways to fashion a slipcover. You can either drape your sofa in fabric or add ties but sewing a fitted slipcover gives your sofa a customized look giving it an expensive fancier look.
 Style Tips For Beach-Themed Living on a Budget
You can spruce up your living space by leaning into a coastal style that is less about luxe décor ideas and focused on forming a relaxed and comfortable room with cool tones all year vibes. 
The point here is the light, texture, and general feel. Select things that channel light quickly, like mirrors or mirrored furniture, silver, glass, and lightweight fabrics such as linen, cotton, or muslin.
Choose items with a texture, including seagrass rugs and pillows, then accentuate with some pieces and knick-knacks with beachy pictures, driftwood, and shells.
Pick out the wall colors that remind you of the sea and beach while sticking to a neutral and soft hue.
The Secret! Budget-Friendly Tips, is recommendable for beach and coastal decorations; you keep it simple and don't overdo it. That way, you will achieve the coastal style of your choice, and your living room will feel beachy, light, and airy.