Benjamin Moore Regal Select and Aura, For over a century, Benjamin Moore Paints has been producing some of the best quality paint products in the market. An industry leader, Benjamin Moore paints are arguably one of the best quality paints you find in stores today.
With an extensive array of paint lines to choose from, Benjamin Moore provides you with an assortment of paint colors to rival any other, and with their proprietary Geenex Color Technology, paint quality and safety standards have improved tremendously.
Benjamin Moore has a number of paint lines available including Regal Select, Aura, Super Hide, and Super Spec.
These paints and stains are also classified based on whether they are formulated for interior or exterior use.
Regal Select Vs Aura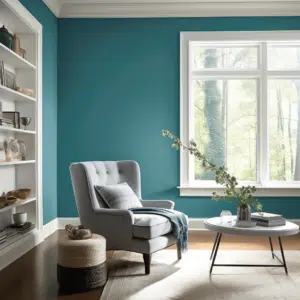 It would be remiss not to mention that every line of paint in the Benjamin Moore catalog will more than likely be satisfactory if not an excellent choice.
While Regal Select and Aura may be separate lines, they are both quality paints. When deciding on either, it is important to consider the following factors.
Richness of the Color
You want a paint that fully captures the essence of the shade in your selected color card. Benjamin Moore colors are exceptionally rich and both the Regal Select and Aura lines carry very rich color paints.
Notably, though Aura colors are characteristically good when your choice is a strong color such as red, deep blue, brown, purple, orange, and green which could prove problematic once the paint job is done. Aura line of paints has better richness.
Staining and Washability
Stained walls are just as frustrating as hard-to-clean walls. Ideally, walls should remain stain-free but if they are in need of cleaning, the process should not destroy the paint.
Often though most paints do not take cleaning well and can retain moisture causing them to peel.
Aura and Regal Select are sufficiently resistant to this kind of damage and are fairly easy to clean.
More importantly, they do not lose the rich texture of their color or finish. Regal Select is particularly stable and scrubbable if you have the right finish.
In high traffic areas where walls could easily stain, either Aura or Regal paints with gloss or semi-gloss finish will do well. Regal Select resists staining, is very easy to wash, and is the better option.
VOC Levels
The air we breathe contains VOCs, or Volatile Organic Compounds, and paints can release enormous amounts of them into your home. Paints now have stricter VOC limits.
Regal Select and Aura interior paints and stains are two of the safest paint lines with zero VOCs. The exterior paints also have a low-VOC rating and both Regal Select and Aura surpass some of the strictest industry standards.
Coverage
Coverage refers to a paint's ability to completely hide a surface without the paint compromising its shade or hue.
This is particularly important when the surface you wish to paint is dark or absorbent and porous or if the color you have chosen is a deep shade.
This is also important if the surface is riddled with scuffs and scratches which cannot be eliminated.
Thick paint with excellent coverage is important and anything less will leave the paint job with blobs and imperfections.
Aura has thick paints and achieves superior coverage with fewer coats on many of the colors in that line. Aura is the better product for a project where coverage is key.
Self Priming
Regal Select and Aura are both self-priming paints. They are formulated as paint and primer in one which eliminates the need to purchase the primer and the paints separately.
Self-priming paints also drastically reduce the likelihood of mishaps since the entire job involves applying fewer coats.
For novice painters or DIY enthusiasts, this is the best kind of paint to work with and you will end up saving both time and money on painting.
Durability
Paint generally fades and loses that lustrous appeal over time. This means a tired-looking room or frequent touch-ups to maintain a space looking pleasant.
Durability is a key factor to consider when choosing a paint and Regal Select is the best option in this case.
Regal Select maintains that freshly painted look far longer than any other line. Many paints require a protective coating to keep them going an average of five to seven years before repainting is necessary.
Regal Select requires no further protection once it has been applied and without extreme conditions of humidity and direct sunlight falling on the surface, Regal Select paint can last the same amount of time in prime condition.
If repainting is necessary, Regal Select holds rather well against old coats of the same brand. In terms of durability, Regal Select is comparatively superior.
Variety of Finishes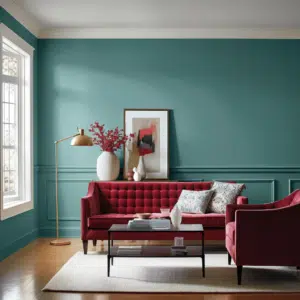 As well as the color, the finish is an integral part of the paint you choose. The finish is the surface texture your paint comes with and determines how light appears to bounce off the paint. A glossy sheen appears to shine in the light and is suited to high-traffic areas.
A flat finish does not appear to reflect light but is more susceptible to staining and holds up poorly to large amounts of moisture and cleaning such as in bathrooms.
Regal Select has five finishes; flat, eggshell, pearl, matte, and semi-gloss. Aura has four finishes; matte, eggshell, satin, and semi-gloss.
Regal Select will give you more range to choose different finishes for different rooms and surfaces.
Cost
Regal Select is comparatively pricier than Aura. Regarding value, however, both are highly regarded and either will make for an excellent paint job. For particularly extensive paint jobs, Aura should be an excellent choice to save a buck.
Verdict
Regal Select and Aura are characteristically excellent paints and though they are both quite expensive, you are guaranteed value for your money with either choice.
Depending on the most important aspect of your paint job, pick the line most suited for your needs and you will find your purchase will absolutely be worth it.