A well-designed kitchen shelf will always be attractive to the eyes.
This has become a trend for people liking to use shelves while them more appealing. Many people like to be associated with smart and designed shelves.
Some even have it that whatever revolves around you may be used to measure your character.
Kitchen lovers can do anything to ensure that the shelves are tidy. Some people even opt to buy kitchen cabinets to improve the kitchen display.
Along these lines, here are the various things and designs that you can put on an open kitchen shelf.
Ideas to Decorate Open Kitchen shelves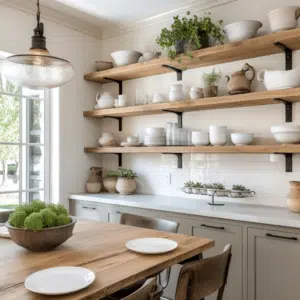 Display Your Cookware
You shouldn't really mind showing off your cooking items provided they are in a good condition.
Just make sure the items mush each other so they bring a completely good image. You might also want to use plates as a display.
Organizing shelves according to use is a great idea.
Items that are commonly used should be kept in a place that is easily accessible, in comparison to those that are used only on an event.
This helps to avoid moving around the kitchen looking for some utensils. Besides, kitchen shelves are designed to ease the work in the kitchen by organizing.
Use Hooks To Hang Items
Hooks can be used on the kitchen shelves to increase space. This can be ensured by hanging items such as cups, cooking utensils, pots mugs, and others that have handles.
This may be very effective especially when the kitchen is small
Plant Decorations on the Shelves
Plants are very attractive and beautiful, especially when used alongside different colors.
Some plants also have beautiful flowers that can be used to decorate the shelves. These plants and flowers may be held by pots made of different conspicuous colors to meet the objective.
Color Textures On the Shelves
Different colors bring out a beautiful look. This can be achieved by ensuring that every proportion of items on the shelves has a different color. These items should, however, be arranged strategically to meet the intention
Use a conspicuous color to decorate the shelves – Everyone has a color that he/she likes most when used.
Bright colors will always attract the eyes unwillingly. In present days, people prefer to use a white color to decorate their shelves. This is due to the power of color to make the shelves beautiful.
Also, you can have non-conventional decorations on the shelves. It should be noted that open shelves in the kitchen are not only for dishes, cups, or glassware.
You can always put other unique items such as candlesticks, wooden bowls, or cookbooks.
Construct A Bar On The Open Shelves
A bar is used to make the shelves attractive. You can use it to hold items such as glassware, shakers or even clear bottle.
This will help create an attractive design attractive agreeable to everyone's taste even to the visitors.
Baskets on the Shelves for Control Clutter & Decoration
Baskets are very important when it comes to clutter management. Apart from labeling them, you can likewise choose to fill them with anything in mind.
Labels are used to ensure easy selection of the baskets. In a case there are no clutters to control; the baskets can be used on the shelves for decoration.
Use Artwork on Open Shelves
The artwork may be a favorite picture to pass an important message. This should be designed to make it more attractive and appealing.
The pictures drawn on the shelves should be drawn using gorgeous and eye-catching colors. Examples of things you can draw include pots, beautiful jars, and flowers.
Glass Jars
Glass jars may be used to store items and ingredients such as sugar, snacks, salts, and sometimes baking supplies.
These jars do not only decorate the kitchen shelf but also assists in filling empty spaces on the shelves.
Some glass jars come decorated with a flower while others are just made plain and clear.
Use Colored Bulbs
Colored bulbs are a way of personalizing the kitchen. The bulbs used should be slightly small than the normal ones so they fit well on the shelf and reflect the light more decently.
However, remember to keep the light at minimum for eye protection.
Write A Positive Message On The Shelf
A positive message on the wall is a promising way to make sure that anyone who gets in the kitchen feels comfortable.
Shelves that are decorated by the artwork to pass a message are usually more appealing. Consider using a clear color pen.
Consider Mixing Of Metals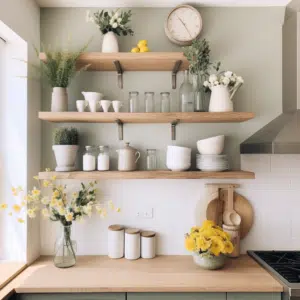 In the kitchen, there are very many types of metals that are used; from brass, and copper, aluminum, and stainless steel.
When the metals are combined they can form a beautiful spark. However, always ensure that items made from these metals are put on open shelves to serve a purpose.
If any of the metals hurt your eyes, don't put them on the shelf. Always put the ones that can't compromise your wellbeing.
Bottom Line
It's true to say that majority of people and kitchen lovers like decorations and designs.
While the outlook of kitchen shelves may be used to predict the character of a person.
The information provided above contains tips on what to keep on the open kitchen shelves and also how to design them.
You can keep your kitchen attractive, smart, and organized without much of a struggle. In the end, beautiful shelves will always portray a positive message about the owner.