If you plan to remodel your bathroom layout or decor, you already know how much time, expense, and mess can happen.
Perhaps it's upgrading the faucets, replacing dull tiles, changing the vanity, or even cleaning out the tub.
Your bathroom update will always need a game plan to ensure you transform your bathroom into a clean and relaxing environment. 
However, as any homeowner knows, bathrooms can get dingy with fixtures and linens, killing your bathroom personality.
In particular, bathroom mirrors and backsplash are great ways to decorate your bathroom but can also detract a lot. This often leads to dilemmas with homeowners always having to ask questions such as," Should bathroom mirror touch backsplash?" 
Understanding Bathroom Backsplash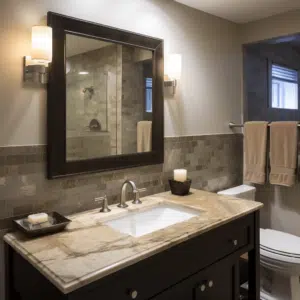 Bathroom backsplash has come a long way from being a cheaper alternative for homeowners to spruce up their houses.
Initially, you would have your bathroom backsplash installed to prevent running water from coming down walls in the bathroom areas. Most of the bathroom backsplash designs would also have tile materials as the main material-make available. 
Now, a bathroom backsplash is more than what meets the eye. For starters, you can now expect a bathroom backsplash to feature even caulk material as a less expensive alternative for those working on a budget.
They also come in different designs and shapes, depicting materials such as stone tiles, flat marble, and even striking textured mosaics.
But despite the varying shapes and designs, most bathroom backsplash models vary across 30cm width, which is handy since it provides plenty of room for updates.
So for the aesthetic bathroom fans out there, your bathroom backsplash offers you a viable option in making a stand-out statement of the room.
Better yet, the bathroom mirror touching backsplash should be allowed but only to a certain extent. Also, counting on several factors will play a role in how all this turns out. 
Finding The Right Distance Between Mirror and Backsplash
Vanity Mirror
A vanity mirror brings a different vibe to the bathroom since it is practically unique from the typical full-length mirrors.
First, vanity mirrors are accustomed to being wall-mounted or hung in front of your standing or sitting position.
That means the mirror helps reveal your whole body top-down while also giving space to other personal items within the vicinity.
But as you will find out, vanity mirrors can go beyond the typical design, with some allowing for multiple vanity mirrors depending on the method. 
As it stands, there is no predefined height to set your vanity mirrors when it comes to bathroom backsplash.
For starters, there are varying factors you will always have to take into consideration.
Each element carries considerable weight in determining the set height for your vanity mirror.
Aspects such as the individual height, the mirror length, plus even the surface items can get in the way of determining whether the backsplash can get to the mirror. 
Unlike a vanity mirror, framed ones come into play with less hustle when installing into your bathroom.
Of course, being crafted means such mirrors save you on space when combined with your bathroom backsplash.
The articulated design in such mirrors is also a great perk in increasing bathroom functionality. However, you would have to consider that the framed mirror design will significantly affect the outlook of the bathroom decor. 
For example, a stand-out framed mirror may take a more significant part of space, meaning the backsplash and mirror will touch.
While the framed mirror and backsplash nearly touching is not an issue, it would not look great aesthetically.
In that case, it is wise to leave little room for movement of the mirror and space leverage for the items around the countertop or bathroom sink. 
How High Should The Mirror Be Above The Vanity Backsplash
As aforementioned, the hanging height of the mirror from the backsplash should always be aesthetically pleasing when combined with the other bathroom fixtures.
However, there are always factors to consider since the backsplash and mirror are not the only items within the bathroom. Top among these factors can include aspects such as
Dimensions of the mirror and countertop 
Although a common bathroom feature, the countertop size varies depending on the room size and initial construction.
Older homes, for instance, can have shorter countertops than recently designed homes that feature a general higher placement.
Therefore, it is advisable always to measure your countertop beforehand and ensure it's within the standard dimensions of three feet tall. 
The dimensions of the mirror are also essential in any bathroom interior decorating guideline.
Here, you will need to measure the width plus height of the mirror you intend to hang on the wall. Both these dimensions will come in handy as a reference point for you later in the installation. 
Backsplash height 
Likewise, you can expect the backsplash height to vary depending on the initial construction design.
You can also count on personal bathroom preference to influence the size of the backsplash since individual considerations always come into play.
To be safe, always use the tape measure beforehand to get the proper dimensions of the backsplash. With the backsplash height in hand, you can now add that to the size of the countertop. 
Additional tips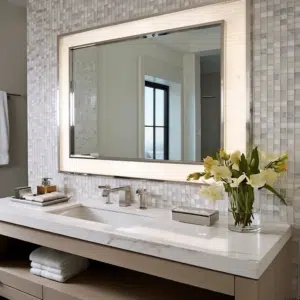 While dimensions such as height or width are essential factors, you will also rank in extra options.
Most importantly, consider the mirror weight could spell doom, especially if it turns out the mirror is too heavy for appropriate hanging.
If possible, always check the mirror weight and get a helping hand or two to assist in the hanging. 
In addition, the installation hardware you intend to use should also count since, with precise tools, the job gets done much quicker.
The proper hardware also makes sure the mirror is hung strong enough not to fall or break.
The Bottom Line
By now, you are aware of the answer to your initial query." Should bathroom mirror touch backsplash?' Yes, the mirror can touch the bathroom backsplash. But take into account that this should not always happen and will depend on several important factors.
So, before deciding whether it's possible or not, factor in all the aspects necessary, and you can be confident that you will get it right.