Pebble Shower Floors are into remodeling bathroom surfaces, you have come across the option of pebbles for your floor. By all means, natural pebbles are greatly sought after by homeowners for their style, variety, and even ease of use. This is besides transforming your shower floor into a luxurious surface with an aesthetically pleasing natural look.
But despite all the good, you have to consider the downsides of owning a pebble shower floor. Let's look at the pebble shower floor pros and cons to learn more about this decorative technique.
Is a Pebble Shower Floor a Good Idea?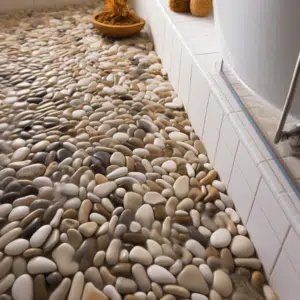 Whether a pebble shower floor is a good idea or not depends on each circumstance. While a pebble shower floor may work for one homeowner, this does not mean it will work for another homeowner.
As such, it's wise to explore the advantages and disadvantages of going for this natural flooring option. Learning the pros and cons gives everyone a beforehand review of whether to pick a pebble shower floor or not.
Pebble Shower Floor Pros
Without a doubt, slippery bathroom floors are a significant cause of fatal and major injuries across homes. But that is not the case when it comes to owning a pebble shower floor. Unlike the tiles floor counterparts, pebbles offer the roughest flooring possible. As you will see, pebble flooring combines a series of pebble stones held firmly together with a sealer plus grout. The pebbles stones come in different sizes and shapes, which proves helpful in providing traction in the shower.
Even when wet or wearing rubber flip-flops, a pebble shower floor provides the perfect, even finish for that solid footing.
Even without the right expertise, a pebble shower floor remains one of the most accessible DIY floorings you can carry out. All it takes is collecting pebbles from the riverbank or during the walk on the beach, for starters. Once your pebble collection is done, your next step is to align the stones to each other and combine them using the grout and sealer. Besides that, you only need a good pair of hands and patience to get your pebble shower floor. This is unlike other types of flooring, such as teak shower floors which need specialized equipment, tools, and even expertise.
A pebble shower floor or tiles are also strong enough to withstand possible wear, tear, or scratching compared to other shower floors. Remember, the bathroom flooring is covered with pebbles or rocks, which offers a solid foundation base compared to tiled floors. Once in place, you can bet a pebble shower floor to last long since they also don't crack. Even dropping something heavy will no longer be a cause of concern since damage can only come to a small section of the floor or a few pebbles.
A pebble shower floor is quite affordable compared to other floor models. For instance, the primary material is pebbles, and these can practically be found anywhere at no cost. You can easily find these pebbles from your ponds, beaches, and even riverbanks without forking out any cash.
In addition, the rest of the materials needed are also quite affordable and within the budget reach of most homeowners. These items are few and only include materials such as grout, Thinset, a sealer, plus the necessary tools for the job. On average, this means installing and owning a pebble shower floor is cheaper than the standard stone or tile flooring.
With various sizes, patterns, and colors, pebbles offer you an attractive floor finish from many aspects. You get the chance to experiment as you please with different stones providing you the opportunity to mix match. In short, a pebble shower floor has you enjoying an endless list of designs and patterns to pick from and use what you see as fit.
River Rock Shower Floor Problems
Need specialized expertise
While a pebble shower floor may have an easy DIY Installation, the initial steps may need the help of a flooring professional. The expertise is necessary to assess the condition of your shower floor and determine whether your base is suitable for pebbles.
An expert also helps point out a possible weakness on your existing floor before installing the pebble design. For instance, your floor could have an imperfection that allows water to seep through it. Once you establish your pebble shower floor, the water seeps and leads to the whole house floor rotting.
Once you install your pebble shower floor, the daunting task of maintenance begins for your new renovation. The care is not that straightforward also as you will have to be extra careful when it comes to cleaning your pebble shower floor. For example, any wrong move, such as lots of cleaning, could cause your grout or sealer to come off quickly.
Once such damage occurs, you will need to have a fresh coat of grout applied to have your pebble shower floor back to normal. Thus, it would be best if you had plenty of care and maintenance to ensure the longevity of your pebble shower floor.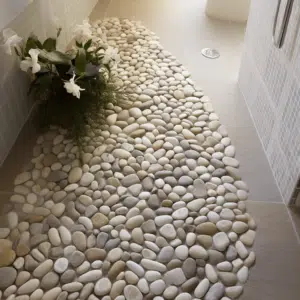 In the long run, a pebble shower floor tends to wear off quickly compared to other shower floor designs. The significant downside here is that the frequent use and exposure to water wear off the sealer and grout to an irreversible extent.
For this reason, frequent repairs are always necessary to keep the floor elements intact and in good condition. But frequent repairs mean extra costs, now and in the future.
Aside from the pebbles, grout is vital to get that excellent-looking pebble shower floor design. However, given the ample space between the stones, you will have to consider buying plenty of grout to fill all the vacuum between the hundred of pebbles.
On average, you could end up using two times or more grout when installing a pebble floor compared to a mosaic shower floor. You can always make a wise move and use large pebbles, but this does not change that you need plenty of grout to get the job done.
Are Pebble Shower Floors Worth It?
From the pebble shower floor pros and cons, you can tell that such a floor design comes with a great deal of convenience. They offer countless decorative ideas with various colors, sizes, and shades.
You do not forget the effortless installation and inexpensive nature of pebble floors compared to other floor alternatives. So, get creative and learn how to easily decorate your shower floors with pebbles to enjoy the perks of this floor design.