Hampton Bay Electric Fireplace is one of the brands available on Home Depot's website. Therefore, it can be found on their ecommerce site or at the Home Depot retail stores in various locations. There are varieties of their products, including the legacy panoramic infrared electric stove, among others. The fireplace comes in either white or classic black cast-iron. Read further to learn more about it below.
Hampton Bay Electric Fireplace Review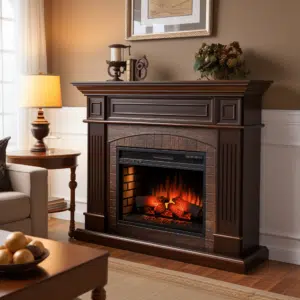 Setup: Easy installation
This fireplace comes fully assembled. You will just need to attach its legs with the help of a screwdriver. Also, you should select the right position for the fireplace so that it can serve you well. This fireplace can heat users directly, akin to the same way an actual fireplace would perform. Thus, you can place it in the same position that you would use for a regular fireplace.
The units come in plastic feet. Thus, it is safe for various types of floors. Ideally, you can therefore place it on the carpet. However, the unit should leave about 36 inches of clearance above it, as indicated in the manual instructions.
Design
Most Hampton Bay heaters are designed to resemble an old-school cast-iron wood stove. But you can find many white fireplaces on the market. Thus, it would be easy to pair it with other household items in your room. It has a three-dimension faux quite visible from the front and the sides. It produces nice flames that are awesomely 2D upon a close look. Its fire effect is quite convincing, and users find it worth the investment.
Some versions have two glass doors that swing open. The doors are held firmly by a magnet which is designed to avoid rattling, especially when the fan is working. The doors of the fireplace offer access to its controls. It also hides the controls and gives the unit a unique look.
Operation: Simple switches and knob
The unit has hidden manual controls that are straightforward to comprehend and control a few ranges of options. The main power switch is an On-off toggle that turns on the flame. Thus, it is impossible to run the heat without the pretty flame, but it is possible to run it without the heat.
You can use the knob to set your preferred temperature. However, you may have to experiment a bit before you can find your sweet spot. The knob has a static cling sticker with labels showing temperatures in both Fahrenheit and Celsius. In some versions, the sticker may look cheap and move around the knob more. There is also another sticker that shows the switches. Though many users claim that the stickers would have been stamped on the unit, they are all hidden by the door while using the fireplace. Thus, it is not that much of an annoyance.
Performance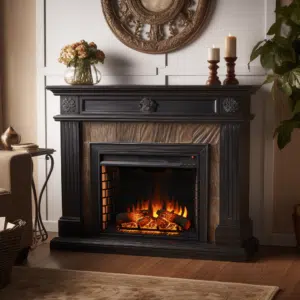 The heater looks huge, but it is still ideal for small rooms. Typically, most of the units are 25 inches wide, 28.5 tall, and 15 inches deep. It is rated to cover about 1,000 square feet. It is therefore recommended for use in rooms that are 1,000 square feet and above.
It is designed to bring your room to the right temperatures in about fifteen minutes. Even if your room can get a bit cold in the winter, you can bet on this heater to give you the desired temperature. You can therefore use it as the main heater instead of a supplemental heating unit. Besides, you will still have the warm-up period since it gets gradually heated up and brings the entire room to your desired temperature within the fifteen minutes, as mentioned earlier. It is ideal for use in your home office or the living room.
In relatively smaller rooms, you can point the heater direct to you. Its type of heat will serve you better than conventional heaters. Some versions like the infrared heater do not dry out the air in the room. Thus, it would be suitable for houses built in low-humidity zones. People living in more humid zones will need to choose versions that can dry the air a bit.
In addition, it is usually quiet while heating, unlike other models that produce sounds due to the heater and the running fans. Besides, the doors do not rattle since magnetic stays control them.
Price
Hampton Bay heaters have a wide range of models. You can get mi-range and high range with simple controls that everyone can use. Depending on the model you choose, you can get the heater at around $89, $160, or even more. There are units of various sizes that suit your heating needs and your budget too. If you want a better model, you can still allocate a higher budget. You can get a model that offers more features such as programmability, remote, and even timer; however, if you are looking for a heater that will serve you excellently at a reasonable price, you can order the Hampton Bay Legacy.
Safety
Although it offers easy installation in your selected area, the electrical units should not be used in bathrooms, kitchens, or other places where moisture might be a big deal. Thus, you can use it in your home office as suggested earlier or in the living room. Also, you can try it in your bedroom. However, it would be nice if you adhered to the instructions and guidelines that streamline heaters in bedrooms.
Conclusion
If you are looking to buy a heater that will serve you well, you can choose one of the Hampton Bay models. They come in various ranges and colors. They are available online. Thus, you can place your orders without having to leave your home. You can get any of your preferred units at a good price. You can try it out in various rooms once it is delivered. If you are not okay with the unit delivered, you can still get a better unit from the same supplier you bought from. They might be willing to exchange it after you add more bucks on top of what you had paid.