Cover a closet , Do you have a closet in your home? If yes, you know that covering it is very important. Covering the closet will help hide your mess. But what if your closet does not have doors? What can you use instead to cover it?
This article is here to answer that question by walking you through several creative methods you can employ to cover a closet without doors.
Creative Ways How to Cover a Closet without Doors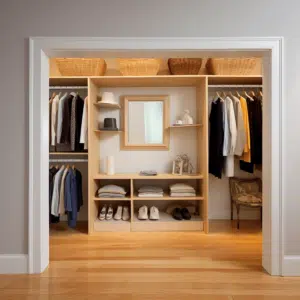 Acquire a Sliding Door
What is the most fantastic option for a closet without doors? Obviously, sliding doors! A sliding door requires professional installation, so hire one. However, you can attempt the installation yourself if you are confident working with metal or wood projects.
Sliding doors typically save much room. On the other hand, a closet with doors alters the size of your space. When opening the closer on a sliding door, there is no need to maintain any spacing. Metal sliding doors can also improve a room's appearance.
Install a Glass Pocket Door
How should a closet without a door be covered? Glass pocket doors seem a great idea. You must, however, be okay with people seeing what's in your closet.
Due to their light weight, ease of use, and compatibility with all interior decors, glass pocket doors have impressed a considerable portion of the population.
Because they must buy heavy furnishings to match the closet doors, many people do not want to purchase heavy materials like metal or wood.
The best choice will seem to be glass pocket doors if you don't have enough furniture. As you have undoubtedly noticed, most five-star hotels have small closets with glass sliding pocket doors.
Hang Some Curtains
Do you need suggestions for covering a closet without doors? Many people favor curtains. It may be the most economical method of covering closets without doors.
To keep everything inside hidden from view, it is simple to hang a few curtains. You are free to utilize whatever curtain you like. You can purchase curtains in vibrant colors or .something that complements the interior design of your house
Always choose something lightweight to cover closets.
Purchase a Thick Fabric Curtain to Cover the Walk-in Closets
How can a small closet without doors be covered? Well, for walk-in closets, you should cover them with fancy items.
Get heavy fabric curtains if you think the closet doors are taking up much room, and you find it annoying to keep opening and closing them repeatedly.
People purchase heavy fabric curtains to cover their closets and give their entire space a beautiful, regal appearance. These curtains are costly, but they are at least available.
Position a Large Mirror in Front of the Closet
Have you looked for designs for closets without doors? Ever considered putting a large mirror in front of the closet? This is a fantastic idea.
While covering the closet, you can test the clothing in front of the mirror. This approach will be practical, especially if your closet is small. But if your closet is large and has many shelves, this does not seem like a good idea.
However, you can still combine a few strategies if your closet is large. Place a large mirror stand and some curtains in front of the closet. These will make it simple for you to conceal the closet.
Use Beads
Another creative idea for covering your closet without doors is by using beads.
Although they aren't as popular as they once were, bead doors are rising in popularity today. A beaded door is simply a doorway with strings of beads.
This creates a small border between two visually pleasing spaces. In this case, it will be a barrier between your room and the closet.
Installing a bead door will appeal to you if you prefer to finish projects quickly.
You will always have easy access to your closet when you install a bead door to replace your closet door. Get everything you need by pushing the beads out of the way.
It's a simple solution that will appeal to anyone looking for something out of the ordinary.
Use Dividers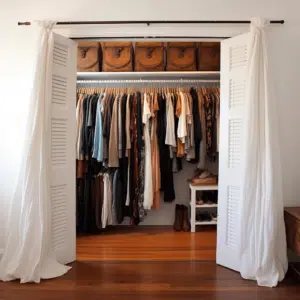 If you want something more substantial, you can use a divider. Dividers can take on a variety of forms. The divider can be placed in front of the closet or fastened to the top of the door frame and allowed to slide open and shut.
When it comes to dividers, the possibilities are essentially limitless. You can use the traditional foldable screen divider if your room has adequate space. A wood panel could also be installed to make your mock divider.
However, this idea is tricky because it does need a little more space. You want the divider to completely enclose your closet without making the room feel claustrophobic. This might be a stylish and excellent replacement for a traditional closet door if your room is big enough for a divider.
Something else to consider is that you don't want to employ a divider in a method that makes accessing your closet difficult. Instead, position the divider such that there is enough space between it and the closet so that you can easily go behind the divider. Again, to execute this correctly, much space is required.
Frequently Asked Questions
Is Having a Closet Without Doors Odd?
Building codes do not stipulate that closet doors be present. Many homes today have closets without doors; however, this depends on personal desire and taste, just like any other aspect of home decor.
What are Alternatives Available for Closet Doors?
The available alternatives to French doors include the following:
Beards

Barn door

Accordion closet doors

Curtains

Bookcase Closet door

Louver door

French door
How Can You Hide a Closet Door?
A closet door can be concealed in a number of ways. The most straightforward method is to cover it up with a mirror, curtains, or even a bookshelf. If you are not using the closet and want to open up your space a little, you can consider removing the door from the closet and using the space as an office, recessed bookshelf, or open storage area.
What is a Bypass Closet Door?
A bypass closet door is another term for closet sliding doors. These are traditional sliding doors with two or more door panels that move on a roller track. Although just a portion of the closet may be reached at any given time, they are wonderful for saving space.