Simonton vs Milgard
Simonton vs Milgard, are two of the most popular brands of windows and doors in America. Both companies offer a wide range of options for homeowners looking to improve their home's look and energy efficiency. But which brand is better? We'll help you find out.
Simonton vs Milgard: Brand Overview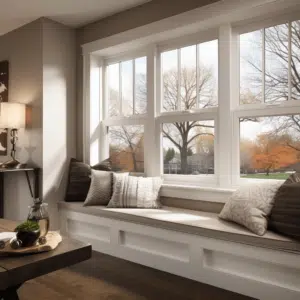 Let's see how these brands compare.
Milgard Overview
Milgard is a leading manufacturer of high-quality replacement windows, patio doors, and entry systems in the US.
The company offers seven distinct window styles to meet your needs. All Milgard windows are designed with the utmost attention to detail to ensure that they not only look great but also perform as they should.
Milgard's windows are available in a wide range of colors and textures. They can be ordered with either single or double-hung frames or casement-style configurations. They also come with a variety of options, including grids, grilles, and screens, as well as thermal breaks for better energy efficiency.
Milgard has a wide range of windows, from the budget-friendly Trinsic series to the Ultra series. Each series offers a different set of features and benefits that make it ideal for different styles of homes and lifestyles.
Milgard windows are offered in many different sizes, so you can find the perfect fit for your home. They also come with a variety of options to choose from, such as Low-E glass, insulated glass, tilt-in sashes, and more.
Simonton Overview:
Since 1946, Simonton has been a leading manufacturer of quality replacement windows for homeowners. Their products are made in the USA and offer many energy-efficient features.
Simonton's vinyl windows are available in custom sizes, colors, and styles to meet your individual needs. They have a variety of options, including double-hung, casement, sliding, and more!
Their products are available at over 1,500 dealers nationwide and are backed by a lifetime limited warranty against defects in material and workmanship.
Simonton Windows' four window grid styles include the 1″ Sculptured Grids, 5/8″ Flat, 3/4″ Sculptured Brass, and 3/4″ Sculptured, which come in seven grid patterns: Colonial, Victorian, Prairie Diamond, Double Prairie, Perimeter, and Double Perimeter.
The available exterior colors include pine black, cream, driftwood, brick, and chocolate, whereas the available interior woodgrain color choices are oak, antique cherry, maple, and driftwood.
With so many options available from Simonton and Milgard, it can be difficult to know what type of window will best suit your needs — especially if you're unfamiliar with these brands or if you've never had replacement windows installed before! That's why we recommend reading through our free guide below before deciding which type of window would work best for you!
Simonton vs Milgard: What's the Difference?
Here are some differences between the two brands that may help you decide which one is best for your home.
Glass Options
Simonton offers a wide range of glass options, including four different types of Low-E glass, which has a higher R-value than other brands. The company also makes its own custom glass, which allows it to include whatever features you want.
Milgard offers various glass options, including low-E, glazing, and impact-resistant glass. Double glazing consists of two layers of glass separated by an air space between them. This helps keep heat inside while also reducing noise from outside sources such as traffic or barking dogs near your home. Some homeowners choose single-glazed windows because they require less maintenance than double-glazed windows.
Energy Efficiency
Both Simonton and Milgard offer multiple energy efficiency options for their products. For example, some Simonton products have Low-E coatings on both sides of their glass, while others have Low-E coatings only on one side of their glass (which can increase installation costs). Both companies also offer various levels of insulation as well as other energy-efficient features such as argon gas between panes and double-pane glass to help keep heat out during the winter and let cool air in during the summertime months.
The bottom line is that both companies offer a wide variety of choices when it comes to energy efficiency, so you should be able to find something that fits within your budget and meets your needs when choosing a replacement window product from either company.
Materials
While Simonton offers a wide variety of glass options, including vinyl-clad wood, insulated and low-E coated glass, Milgard only offers aluminum-clad wood windows. Both companies also offer fiberglass products for energy efficiency purposes. Fiberglass is not as durable as wood or aluminum, but it does offer better insulation properties than either option.
Quality
When it comes to choosing replacement windows, there are many factors that go into making this decision. One of the most important is the quality of the product itself. You want a window that will last through several seasons — or even decades — so it's important that your decision is informed.
The best way to know if a company is producing high-quality products is by checking out its reputation and history in business. If they've been around for several decades, then the chances are good that they have a solid reputation for manufacturing high-quality replacement windows and other products too!
These two brands have a reputation for quality products and excellent customer service.
Pricing
Both companies offer a range of styles and sizes to fit every budget. You can find Simonton windows going for $200 to 1200 per window, while Milgard offers options ranging from as low as $170 to 1900 per window.
Simonton pricing tends to be lower than Milgard's. You may also see differences in their window installation costs.
Installation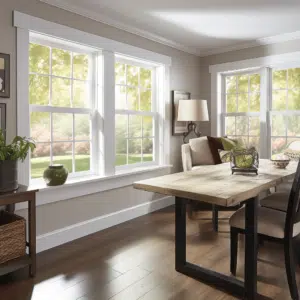 Simonton and Milgard both offer installation services as well as DIY installation kits. If you want professional installation, it's best to go with a company like Simonton or Milgard that has experience doing installations and can provide references from past customers who've used their services before.
Warranty
Both companies offer a lifetime limited warranty on their products. With Simonton's warranty, you can replace any defective part free of charge if it should fail within the first decade after installation.
The average warranty for a Simonton window is 10 years for the vinyl product line and 20 years for fiberglass. In contrast, Milgard offers a lifetime warranty on all of its products.
Simonton vs Milgard: Which Brand is Better?
It depends on what you're looking for. Both brands are reputable, and both offer a wide range of products. You'll find that each has its strengths and weaknesses that make them better suited for different situations.