Smartcore floors are a line of vinyl flooring manufactured by COREtec and carried exclusively by Lowes. They are graded 'better' meaning they outperform most of the cheaper options on the market but are not a 'top of the line' product.
Smartcore vinyl floors come in four varieties. Ultra, Smartcore Pro and Smartcore Naturals. Each of these boasts unique features offering you a wider selection of characteristics to pick from.
Smartcore is the most basic standard design made of wood fibers, plastic, and foaming agents creating a solid polymer core overlaid with an image layer. A wear and tear layer sits on the top of the plank measuring 12mil. 
Smartcore Ultra floors feature the same standard aspects as the Smartcore floors but with a harder core or the WPC (wood plastic composite) core. The image layer has better quality high definition images and it comes with a thicker attached underlayment pad for moisture protection.
The Smartcore Pro has an even stronger waterproof SPC (stone plastic composite) core made from combining limestone and plastic making it harder and more durable. Smartcore Pro is suitable for high foot traffic areas such as very busy kitchens and commercial areas. It also has a 20 mil wear and tear layer plus a greater variety of patterns to choose from.
Smartcore Naturals is slightly different from the others since it is actually made entirely of wood. The core is a hard engineered wood and the face is an actual hardwood sheet. It can also be overlaid with a sheet of bamboo making the planks stunningly beautiful and unique. The core is waterproof and the planks have a protective layer encasing the core.
Smartcore vinyl has its share of disadvantages and below is a review of its demerits.
Disadvantages of Vinyl Flooring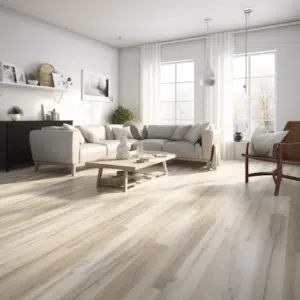 The Warranty Is Limited
Every product is purchased in trust, with the understanding that should it be faulty or fail to fulfill its own advertised expectations, it can be returned, replaced or the payment refunded. The residential warranty for Smartcore vinyl floors is concerning. 
Touted as the easiest DIY installation product, consumers are incentivized to save money and not hire a professional to install the floor, yet the warranty only covers you if you hire a professional contractor to install the floor for you.
Additionally, once the installation is complete, any detected problems at this point will not be covered. The warranty only addresses manufacturing defects that are noted before the floor is installed and not after.
The commercial warranty performs even worse when compared to most other brands in the market. Five years is an incredibly short guarantee when the industry standard is a ten-year warranty. This seems to suggest they are aware their product is unsuitable for commercial use despite labeling it a commercial-grade product.
Water Damage
All the Smatcore vinyl floors are advertised as waterproof. While the best performance expected of any vinyl floor is water resistance, Smartcore has proven to be especially prone to moisture damage and its underlayment is not waterproof. With the standard Smartcore vinyl, you even have to buy the underlayment separately. 
Even then, the underlayment does not provide much protection from moisture. Smartcore Naturals is also quite problematic where moisture is concerned and the wood core bends easily particularly because it absorbs moisture readily. The extra cost of Smartcore Naturals may be a loss since its core is not moisture-proof as advertised.
Prone to Scratching and Denting
Scratches and dents are not unique to any kind of flooring and vinyl floors are all prone to this manner of damage. Smartcore vinyl products, however, are particularly prone to scratching and etching which should not be the case. 
Smartcore has consistently advertised its vinyl floors as tougher than other brands and while there is no expectation that they should not scratch at all, the opposite seems to be the case. They scratch and etch too easily. Smartcore Pro is also prone to denting. 
This particular flooring is recommended for high traffic areas and commercial use which means it should have the higher tensile strength to withstand such rigorous use. The fact that it dents easily is disconcerting at best and it would be wise to reconsider this brand if your floors endure demanding pressures. 
This is also in line with the limited commercial warranty offered by Smartcore on its commercially used products i.e. Samrtcore Pro
Peeling and Cracking
With all vinyl brands, the issue of cracking and peeling of the top layer or the wear layer is a constant concern. This layer protects the image layer below and the core beneath from damage. Smartcore vinyl offers good protection with a 12 mil layer on Standard Smartcore and Smartcore Ultra and a 20 mil layer on the Smartcore Pro but it is not enough. 
Given the tendency to scratch rather easily, the wear layer should be thicker or denser but a better solution should be created to prevent this layer from peeling off leaving the floors vulnerable to damage. 
Compared to other brands, Smatrtcore wear layers do not afford as much protection for the inner layers and eventual damage becomes imminent once the layer starts to crack.
Installation and Repair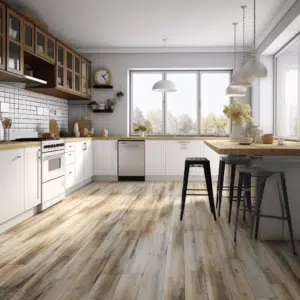 Smartcore Vinyl floors are not easy to install and repair. Apart from the fact that self-installation voids the warranty, the advertised easy installation is misleading. For a novice, most home installations and repairs that require handy work also require some form of expertise and prior know-how. 
Repairs tend to be more challenging so it would be advisable to let a professional handle this kind of work. In some instances, repairs have been known to go so badly as to require a complete replacement of the entire floor.
This misleading kind of information could cost you a pretty penny. There is no upside to self-installation especially since the warranty voids once you install the floor yourself.
The issues above are not unique to Smartcore vinyl products and no vinyl brand is without disadvantages but there may be a product that could potentially offer fewer demerits comparatively so be on the lookout.