Olive Oil Brands , Commonly known as "liquid oil", good quality olive oil is one of the healthiest fats in the world. However, it is one of the most vulnerable to scams.
In fact, the probability of getting low-quality olive oil is nearly 80% unless you're dealing with a certified distributor or getting it directly from the producer.
There's a lot of corruption around the olive oil business, which has been going on for a long time. Some olive oil brands have been supplying low-quality olive oil, yet marketing their product as "extra virgin".
What's even worse, some manufacturers have been blighting their products with cheaper oils such as soybean and sunflower oil.
Note that while every food-grade oil requires chemical processing to become edible, coconut oil and olive oil are the only exceptions.
Therefore, the point is to make sure you're getting the right stuff by simply knowing which oil brands to avoid at your local groceries and which brands to consider.
Below are the oil brands to avoid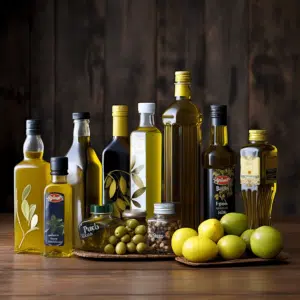 Mezzetta Olive Oil
The majority of people view this as a good brand as there's no scam or mislabeling accusations against the brand.
However, some users described Mezzetta olive oil as a product with horrible flavor. If you're not getting it from a trusted distributor or supplier, then you might be receiving counterfeit product of Mezzetta.
Carapelli Olive Oil
Well, you may be surprised to see this brand. But despite being a decent brand with massive popularity, unfortunately, Carapelli couldn't be passed as Extra Virgin Oil several times in 2010 and 2015. Also, the quality is not good according to some users.
Primadonna Olive Oil
The only reason why this brand is included in this list is that it failed to meet the basics of extra virgin qualifications, just like the Carapelli brand above. Although the brand contested the results, you might still want to avoid them.
Mazola Olive Oil
This brand claims to supply extra virgin olive oil that comes with a bold flavor and an extraordinary flavor. Contrary, we found lots of negative reviews in some recognized online stores where most of the negative feedback was related to unpleasant taste.
Pompeian Olive Oil
Pompeian is yet another olive oil brand with issues and many people don't seem to like the brand. They say the taste falls on the bitter side compared to how it used to be in the past. Some users even claimed that it has a very trivial taste of extra virgin olive oil.
Which Olive Oil Brands To Trust
In this section, we will discuss 10 of the best, trustworthy, authentic extra virgin olive brands. This way, you'll feel confident that what you buy is exactly what you're getting.
A simple test can help determine if the olive oil is pure through its taste. If the taste is good, then it's pure. If it tastes greasy, rancid, or just flavorless, then it might be fake. Below are the various things that can help determine the difference between good and bad olive oil.
Tips on Buying Quality Olive Oil
Good-quality extra virgin olive oil means two things. First, the oil should be 100% pure juice obtained from the olive fruit. The extraction process should be done by mechanical means only, such as centrifuge or press. It should not involve any chemicals.
The next thing is that the oil must be bottled with nothing else added; only pure olive oil. After meeting these two requirements, the oil should also comply with international standards for extra olive oil.
According to the International Olive Council, the extra virgin olive oil must have:
"A free acidity, expressed as oleic acid, of not more than 0.8 grams per 100 grams, and the other characteristics of which correspond to those fixed for this category in the IOC standard."
Real extra virgin oils that meet this requirement are some of the best and perhaps tastiest olive oils in the world.
Simply put: Genuine extra virgin oil should be pure cold-pressed juice from fresh olives. It should have a very low level of free acidity and should not contain any additives.
These are some of the brands that make authentic, quality-checked, pure extra virgin olive oils. Furthermore, most of them are part of certification schemes that regularly test the oil's quality.
Mr. Organic: Organic Extra Virgin Olive Oil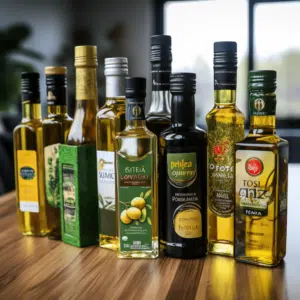 Mr. Organic is based in the Puglia region in Southern Italy. For those who are not aware of this region, Puglia is recognized for its countless number of olive trees and farms.
One impressive aspect about this brand is that it does things the traditional way. Every olive is hand-picked instead of being brought down from trees by mechanical means.
After that, all the olives are cold-pressed and bottled within 24 hours. Mr. Organic works directly with a small group of organic farmers and their oil is said to have no air miles.
This local production guarantees that you can be sure of what you're getting and the final product has full traceability. What's better, it comes in a thick, dark glass bottle, which will prevent the oil from heat and damage.
California Olive Ranch
This is yet another reliable extra virgin olive oil brand. They supply freshly pressed Californian olives bottled within hours of picking. It's not a surprise that it has won a string of awards for its quality.
Moreover, this oil brand is among the best to trust, as it has certification from the Californian Olive Oil Council, which is known to have some of the strictest quality requirements in the world.
ZOE Olive Oil Brand: Extra Virgin Olive Oil
Zoe offers good quality authentic extra virgin olive oil at an affordable price. The oil comes from the first cold-pressed of Cornicabra olives, which are a cultivar native to Spain.
ZOE olive oil brand has certification from the North American Olive Oil Association (NAOOA) and complies with all international standards.
Speaking of the taste, the oil provides a fruity and only slightly bitter flavor. In fact, the brand won a "Best Choice" and "Fruitiest Oil" award in a New York Times taste test.
Contrary to most oil, ZOE Extra Virgin Olive Oil comes in a tin, which is just as good as plastic bottles in protecting the delicate composition of the oil. Plus, it's much better than cheaper plastic options.