Craft desks are some of the most essential tools for any crafter looking to get their craft done. It is also one of the best ways to maximize both your workspace and creativity, especially when you're planning to use a Cricut machine.
Having a space that is clear and organized makes it a lot easier for your work and materials compared to working on another surface such as a hard floor or a dining table. So in this article, we will look at some of the top craft desks on the market and give you our opinion on them.
Best Craft Table For Cricut: The Different Options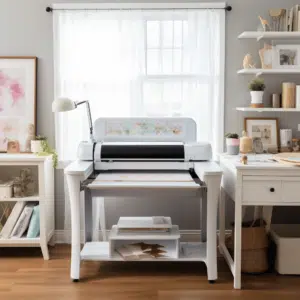 While there are various factors that go into finding the best craft table for Cricut machines, we have also included a buyer guide on how you can find a crafting desk that best suit all your needs.
Sauder Craft Pro Series Work Table
The Sauder Craft Pro Series Work Table is arguably the best option when it comes to space saving. It is an excellent choice, especially if your room is a bit short on space. 
We love that this desk is designed to offer ample work surface with plenty of storage. You can easily count on this table for just about any kind of crafting, from sewing to scrapbooking.
The surface of this table is durable and resistant to stains, heat, and scratches and you'll also find three drawers that offer enough space for all those crafting stuff. 
The drawers can be pulled from both sides, or just be removed and used as trays- adding to the overall accessibility. The whole thing is neatly finished on all sides, so it will look great no matter where you put it.
Reasons to Buy
       

Nice and sturdy

       

Plenty of storage space

       

Removable drawers that can function as trays

       

Drawers are accessible from both sides of the table

       

Finished on all sides

       

Melamine top surface is stain, heat, and scratch-resistant
Considerations
       

Not the easiest to assemble
Engriy Writing Computer Desk
If you're looking for the best craft table for light crafting, the Engriy Writing Computer Desk is a great recommendation. It comes with all funny descriptive words to excite the user, but ignore that, the overall build and space offered by this table is on another level.
The Engriy Writing Desk is the perfect choice for crafters who are looking for a sturdy and versatile table. With two open shelves and adjustable feet, this table is perfect for crafters who want to be able to organize their supplies however they like.
The hooks on the side of the table are also perfect for hanging headphones, backpacks, and other items.
With its attractive utilitarian design, this table is exceptionally sturdy and versatile and works just well as a simple but effective craft table as it does as a writing desk.
You may also be impressed by the two open shelves that can be organized however you deem right, and as a bonus, you get to enjoy a pair of hooks on the sides so you can hang those headphones, backpacks, and the like.
The adjustable feet featured by this desk make it perfectly usable on an uneven floor. And on top of that, its solid wood is meant to feel good and weighty while being resistant to scratch.
Overall, what you get here is an attractive, versatile craft desk, made with an excellent wooden worktop and sturdy metal frame.
Reasons to Buy
       

Exceptionally sturdy and versatile

       

Adjustable feet

       

Large solid wood top

       

Decent storage space
Considerations
HOMCOM Adjustable Drafting Table
This HOMCOM Adjustable Drafting Table is yet another excellent option for artists and crafters alike. The adjustable panel is a handy and versatile addition that allows you to use the table for multiple purposes.
The table itself is easy to assemble, and the metal frame is sturdy and provides a good base to work from. The adjustable drafting table section can be tilted and used like an easel, making it a versatile and convenient option for all your crafting needs.
The table features a good depth and decent height. Although it might get a bit tight, you can easily fit a Cricut maker on here. Seasoned crafters might want to opt for a deeper desk such as the ones discussed above, but if you're generally a creative person, this is an excellent do-all arts and crafts table that you can count on.
Reasons to Buy
       

Large enough to fit a Cricut maker

       

Adjustable drafting table

       

Solid metal frame
Consideration
       

The width could have been better
SAUDER Select Collection Craft Table
Often marketed as the best Cricut craft table, the SAUDER Select collection craft table is a great workspace for sewing and Cricut cutting machines. Like most other options from the manufacturer, the surface of this table is made from melamine, which means it's resistant to heat, stain, and scratch.
You can always create extra storage space by utilizing the drop leaf. This includes a couple of adjustable shelves within the side cupboard and behind the two-roll open doors. There are also some storage bins and space for sewing machines.
What's better, this table comes with caster wheels, which make it easy to open the doors and move the whole thing around. We also love that the table is neatly finished in a variety of colors including Vintage Oak, Mystic Oak, Cinnamon Cherry, and Soft White.
Reasons to Buy
       

Space efficient

       

Drop-leaf for extra storage space

        Made with high-quality engineered wood

       

Adjustable shelves

       

Scratch, heat, and stain resistant

       

Caster wheel to ease movement

       

Value for money
Considerations
       

Assembly might be a bit challenging

       

The overall storage space could be greater
BEST CHOICE PRODUCTS Craft Station
This multi-purpose craft station from Best Choice Products is designed to serve as a crafting table as well as a desk. And it is perfect if you have limited space.
You can fold up this desk quite easily to achieve a neat side table, saving space. The wheel design makes it easy to move the entire table around.
Moreover, the desk comes with one large storage shelf, two bins, 20 pegs to hang your crafting materials on, and a large, decent working surface.
We also love the fact that this craft table is made from MDF (Medium Density Fiberboard) wood and metal hinges. The magnetic door locks just like lockable wheels so that your items won't be falling out when the desk is in use.
Reasons to Buy
       

Extensive, specially designed storage spaces

       

Caster wheels to ease movement

       

Folds up to form a compact, neat side table

       

Easy to assemble and push around

       

Affordable
Considerations
       

Thin depth, which might not be the best for a Cricut machine
Lifetime Folding Table
The Lifetime folding table is a great option for crafters who need a portable crafting table. The table is height adjustable and you can fold it in half, making it easy to carry and transport.
The surface is also stain-resistant, so you don't have to worry about paint or other materials ruining the table. The molded tabletop is 48-inches by 24-inches, providing plenty of space.
The Lifetime Folding Table is constructed from powder-coated steel and high-density plastic, which makes it an all-purpose table as it is easy to fold for transportation and storage. It also comes with a convenient carry handle and holds 200 lbs.
Reasons to Buy
       

Easy to carry

       

Adjustable height for different tasks

       

Easy to transport and store
Considerations
       

A bit challenging to assemble

       

The storage space may not be enough for all crafting materials

        The table may be a little wobbly at maximum height
The Best Craft Table for Cricut: Buying Guide
Now that we have listed some of our top recommendations, let us discuss what you need to check out when buying a craft table. The point here is to pick a table that suits your crafting.
Are you looking for a large surface to work on, or are you interested in plenty of storage space? Do you need a higher workspace or are you going to be sitting for most of your projects? Here are some of the various and a few more considerations for getting the best craft table for Cricut.
The Need for Space
Craft tables are available in different forms; from being just like a regular desk to having an abundance of storage space, or even a mixture of both. Most of these tables are designed with deep drawers, cupboards, and shelves. So when buying, take into account how much space you will need. You might be better with something that features more than two drawers and a shelf.
Again, the idea is to have easy access to all of your supplies, so you don't have to look hard for your items. You might also want to choose a foldable table or rather a portable option for ease of transportation.
Foldable desks are generally considered great especially when you don't have much space as you can easily fold them up and save on storage space.
Some options are also designed to extend when needed, offering a larger work area. Be sure to check how much space a craft table offers and get the dimension to see if it suits your needs.
Ready-Made or Assembling it Yourself
You can choose between a ready-made craft table and one that will need to be assembled thereafter. If you opt for a ready-made, then you will have to find a way to get home or have it delivered. On the other hand, crafting desks that need to be assembled are mostly easy to transport where needed.
The most important thing, in either case, is to find a desk that fits nicely into your working space. Some options are designed with wheels, which makes it easy the whole thing around. When buying, make sure these wheels are all in good working conditions and do not stick or cause issues when moving the table.
The Cost of the Craft Table
The next thing you might want to take into consideration is the cost of the crafting desk. After all, you want to buy a quality crafting desk without spending more than you're willing to pay.
So rather than just going cheap, consider going up a little bit and get yourself something in-between that still provides the much-needed storage and features. Fortunately, there are numerous options available, and you can easily find a crafting table that fits your budget and needs. 
The Design/Appearance of your Craft Table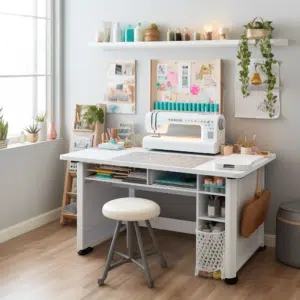 You may be working in a separate area that doesn't require you to mind so much about how your craft desk looks. However, if you're like most people, you would like a design and color that matches the surrounding décor. Moreover, certain colors such as white might not be ideal if you are expecting to mess ink or other substances on it.
Speaking of design, different crafts tend to have different needs. For instance, beading and scrapbooking involve a lot of tools, paper, beads, and small embellishments, which will require plenty of storage space. So keep that in mind to make sure you have plenty of space to work on.
Conclusion
Ultimately, the best craft table will likely depend on personal preferences and will need to cater to your specific requirements. In addition to design and cost, make sure to always choose a quality product that will last a long time without squeaking or wobbling while you are busy.
When working on crafting projects that require stability, such as calligraphy, a small craft table that has table levelers is best. When painting or drawing, you might want a table that can tilt.
You might also need a stronger table for certain crafts, for example, working with clay or using heavy equipment or tools. The surface should also be resistant to scratches, and heat and able to handle the pressure you put on it.