Projection clocks with outdoor temperature, Ever wonder what time it is when you wake up in the middle of the night? And what's the outdoor temperature?
For this reason, projection alarm clocks are fantastic: by projecting the time and temperature on a ceiling or wall, you can quickly determine the answer. Why not just glance at your smartphone to find out? Yes, but your phone's temperature reading may have been taken at a far-off airport. And the temperature at your home maybe 5 or 10 degrees different from that!
Best Projection Clock with Outdoor Temperature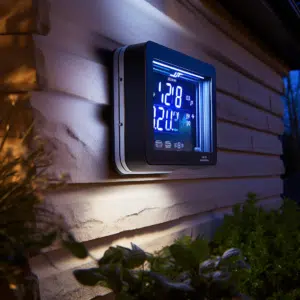 So let's discuss the top projection clocks that also display the outdoor temperature.
Best Color Display Clock: SMARTRO SC91 Projection Alarm Clock for Bedrooms with Weather Station
The SC91 model from Smartpro is the greatest color projection clock with outdoor temperature. This clock is simple to use, has a great display, and has an accurate temperature sensor. Also, you can monitor your greenhouse or other outbuildings by adding up to two more sensors, which is very helpful.
What You Will Like About the Clock
A color display that is simple to read

Sensors that monitor both the inside and outdoor atmosphere's temperature and humidity

Adjustable backlight dimmer

12-hour forecast icons

Uses three exterior sensors maximum

Mold  risk and warning

Includes dual alarms with snooze
What You Might Dislike About the Clock
Has no radio function:  To be fair, there is no radio feature on any of the projection clocks with outdoor temperatures in this post.
Best Clock with USB Charger: SMARTRO SC31B Digital Projection Alarm Clock with Weather Station
We suggest Smartpro's SC31B model if you'd prefer a projection clock with the outdoor temperature that also doubles as a USB charger. The compromise? This clock forgoes the elaborate color icons of their SC91 model in favor of a monochrome display.
What You Will Like About the Clock
You can choose from 8 different colors for the clock face

Projections are simple to read

The brightness can be changed

Accurate temperature sensor

12-hour forecast icons

Backup battery
What You Might Not Like About the Clock
No sensor for humidity

Cannot focus the  projection image 

It can be challenging to make the initial set-up
Best Auto-Setting Clock: DR.PREPARE Projection Alarm clock
This projection clock with an outdoor temperature sensor and a wealth of other features is impressive. The atomic clock (also known as WWVB), which synchronizes time with the clock at the National Institute of Standards and Technology (NIST), is one thing you will like.
The vivid LCD panel with backlighting that shows the humidity and the internal and outdoor temperatures is great.
What You Will Like About the Clock
Time and temperature projections are both easily readable

Customizable brightness

Monitors the highest and lowest temperatures

Icons for weather forecasts

A sensor that is splash-resistant and wall-mountable

Two alarm settings
What You Might Not Like About the Clock
Best Budget-Friendly Clock: La Crosse Technology WT-5220U-IT Projection Alarm Clock with Indoor/Outdoor Temperature
Projection clocks with outdoor temperature fancy color displays are unimportant to you, this low-cost clock projects the temperature and time (alternating between the two). The plain monochrome display features a backlight.
What You Will Like About the Clock
simple to use

Adjusts automatically for daylight saving time

Time zone setting

A visible display that includes the time, outdoor and inside temperatures

LED backlighting for visibility at night

Atomic clocks are always in sync with the right time
What You Might Not Like About the Clock
The clock does not simultaneously display the time and the temperature. Instead, every few seconds, it switches between the two.
Choosing the Best Projection Clock: Things to Take into Account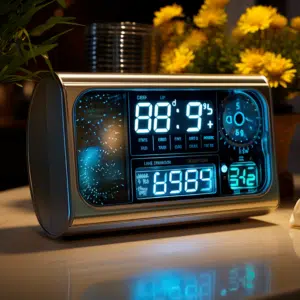 You can choose a projection clock with the features you want from the many options available. Think about if you want to insert alkaline batteries, a rechargeable battery, or an AC outlet while using your projection clock.
Additionally, you may choose the magnified image's projection angle as well as the color and style of the time and temperature display on your clock face.
Pick the alarm ringtone you wish to hear when you wake up and don't forget to pick from among variably colored LED or LCDs.
Continue reading to find out the factors to consider when looking for the best projection clock.
Projection
The clever design of the projection clock allows you to view the projected time and temperature on your wall or ceiling as well as on the clock's face, which makes it easy to read the time and outdoor or indoor temperature. Every projection clock comes with an integrated projector that can be turned up to 180 degrees to project the image onto the area of your wall or ceiling that will be the easiest to see.
The time is typically displayed digitally on alarm clock projections. When configuring your new clock, you can select a 12-hour or 24-hour (military time) reading.
The projector works similarly to a movie projector. Liquid crystal display (LCD) and light emitting diode (LED) technology are both used in projection alarm clocks.
Backlight and Display
A projection alarm clock needs a backlight to operate, either an incandescent or LED. LED backlighting is a common feature of many models on the market.
You can either observe the magnified image projected onto your wall or ceiling, or you can read the time and other information displayed on the clock's screen.
Most of the time, the numbers are displayed in red or blue, which may be seen at night without generally causing a strong awakening response. Projection alarm clocks also have adjustable brightness levels. To fit your demands for light sensitivity, you can choose between the dim, bright, medium, and off settings.
Images that can be seen in the daylight are projected using bright settings. Projection clocks with outdoor temperature the time projected in a dark room with a dim setting. On the other hand, you can set the projector to the off setting if you prefer complete darkness while you sleep.
Material
Most projection alarm clocks have sturdy plastic outer casings constructed of acrylonitrile butadiene styrene (ABS) material. ABS plastic is impact-resistant and strong structurally. ABS also has favorable characteristics for electrical insulation.
Liquid crystal display (LCD) screens, also found in computers, TVs, and tablets, are a common feature of projection alarm clocks.
Additionally, LED bulbs are used in the majority of projection alarm clocks to provide the backlighting that enables image projection. LEDs use less electricity to create light than incandescent bulbs, which is an energy-saving feature.
The Alarm Tone
There are many different audio tones available on projection clocks to help you get out of bed. Nature sounds, a doorbell, AM/FM radio stations, or boosted music from your linked smartphone, MP3 player, or tablet are among the options.
Consider waking up to the soothing sounds of nature. Some projection alarm clocks include a variety of alternatives, including rain, birdsong, and ocean waves. Alternately, you can choose from other sounds like a buzzer, white noise, or a musical chord.
Many projection alarm clocks have memories that can store up to 20 pre-programmed radio stations so that you can wake up to your favorite AM or FM program.
Dual alarms are a common feature of projection alarm clocks, adding to their ease. Thus, you can set up two alarms for various times so that you and your companion can arise independently.
Design
Most projection alarm clocks have a tabletop style, enabling you to keep them nearby on nightstands. They take up a minimal amount of space on a surface that usually houses other essential goods because they are small.
Curved LCD panels in many projection alarm clocks provide comfortable viewing. A curved screen can use all three dimensions—length, breadth, and height—to lessen distortion and improve our eyes' comfort when reading.
Despite having only a few inches in length, height, and depth on average, projection alarm clocks come in various shapes. Others have a slender and streamlined design, while some are shaped like tiny cubes. Those with curved screens are typically rectangular and only have a thickness of approximately an inch.
Power Options
Alternating current (AC) electrical outlets are the most common place to plug in projection clocks. However, the projection clocks also come with other power options. 
While some versions use lithium or alkaline batteries, some use rechargeable cells that may be charged using a USB cable. Alkaline battery-powered devices typically use AAA or AA batteries.
Many projection alarm clocks run on a combination of AC and batteries. In the absence of AC power, batteries offer backup power that keeps the correct time and temperature readings. This is a useful function in case of a power outage, or the clock is unintentionally unplugged.
Frequently Asked Questions
How Do You Set the Alarm on a Projection Clock?
The directions that came with your projection clock should be followed to set the alarm on your projection clock. Be sure your time zone is set correctly to adjust for things like daylight saving time or data recovery after a power outage.
Are there Projection Alarms Clocks with Nature Sounds?
Yes. When using different projection alarm clocks, you can choose from various natural sounds, such as birdsong, rain, ocean waves, or a babbling brook.
Will a Projection Clock be too Bright to Keep You Awake?
Almost all projection alarms have adjustable brightness settings. To fit your level of light sensitivity, you can change these settings.