Tile and Grout Cleaning Machines, Tile and grout accumulate dirt quickly due to grout's porous and discoloring nature, which completely ruins the original grout color. But with a thorough cleaning, your floor will maintain its sparkling appeal as if it was new.
There are various ways you clean your tiles and grout. The use of a tile and grout cleaning machine is one of them. But do you know the best device for your home use? Each machine has features that may or may not be applicable based on your home preferences.
This guideline will highlight the advantages and disadvantages of the best tile and grout machines to help you make a noble decision before investing. Let's get into it.
Best Tile And Grout Cleaning Machines For Home Use: Top 4
A suitable tile and grout machine is a true time-saver during tile floor cleaning. Below we give you an overview of the best cleaning machines for home use without having to go down on scrubbing. Take a look
Bissell PowerFresh Steam Mop
Steam mops can be the best for cleaning tile floors and grout because they're adaptable to various requirements. It has three steam levels to choose from depending on how powerful the steam is on the grout. It also eliminates germs and bacteria, and all that is washable too.
Tile and Grout Cleaning Machines is an excellent choice for both large and small areas. Bissell PowerFresh has adjustable settings that make it efficient for all cleaning purposes. In addition, you can use fragrance discs to leave your space smelling fresh.
The fact is that this appliance has several customization options that distinguish it from the rest. Its immense advantages qualify it as the top choice for home cleaning.
Grout Groovy Electric Stand-Up Tile Grout Cleaner
Have you been struggling with cleaning grout? Well, the grout groovy electric stand-up tile grout cleaner will make your life smooth as per your tile, and grout cleaning is concerned. 
The Grout Groovy's vertical brush gets to the grout with ease doing a perfect cleaning job while leaving your floor fresh and sparkling again. This appliance is easy to work with apart from the need to control it to keep it firmly on the grout as the wheel tends to slide.
To assemble it is straightforward and robust.

Main Features
Multi-use design (works on porcelain, ceramic tiles, etc.)

Motor size: 120v- 60Hz-1.3Amp (running draw)

No –load speed: 1200 RPMs

Weight: less than 4 lbs.

Grout Cleaning Brush Wheel (1)

Grime guard (keep dirt contained)

20' cord
Pros
It is easy to use
It works perfectly, especially with the Clorox spray cleaning agent
Its brush has minimal splattering, thanks to the inclusive safety guard.
Cons
The nylon bristles on the brushes wear down quickly, which is a disadvantage if your cleaning area is extensive. So, depending on how dirty the grout is, a meeting lasts for about 500 square feet (of tile). However, you can replace the old worn brush and order a new one.
According to the manufacturer, this appliance is not recommended for hardwood floors.
McCulloch MC1275 Heavy-Duty Steam Cleaner
It is one of the best-known steam cleaners for almost everything, not forgetting grout cleaning and tile mopping. The device is robust and designed to offer users an effective way of cleaning their grout. It has lightweight and easy-to-use controls.
Features
It has a built-in vacuum to keep your workspace clean

Large tank capacity for longer runs between refills

Sleek design that looks great in any kitchen

Adjustable suction to accommodate different tile types
Pros
Not too big 
Its wheels very well around tile floors
It works perfectly on tiles and filthy grout
It has a timer that automatically shuts off after five minutes of continuous use, thus preventing the overuse of your machine and protecting your floors from damage due to excessive scrubbing or too much pressure during cleaning sessions. 
Cons 
The cord doesn't recoil and has no place where you can wrap it.
McCulloch MC 1385
This machine is a powerful, fast-cleaning tool that can take all messes. It has a built-in pump that gives constant water pressure and cleans mortar, lime, and algae from grout lines. It has a large tank that allows you to use it for an extended period without refilling.
Features
Cleaning path: 12 inches

Weight 21 pounds (9kg)

Power: 50 Watts
Pros
It has a rotating brush that scrubs the grout making it cleaner
It has a powerful suction to remove all dirt.
Why is Grout Cleaning Vital?
Grout is a mixture of cement and sand that act as a filler between tiles to prevent dirt and debris from getting in between tiles. It also adds integrity and strength to the tile installation. Grout is porous, meaning any moisture that gets on it gets absorbed. 
As a result, what remains in the grout is dirt and fluid stain. Mopping worsens the situation as it spreads the dirty water onto the grout and gets absorbed, leading to discolored or dirty grout. Another reason for dirty grout is where there is mold, mildew, grime, and bacteria collected. 
Before we take you through the grout cleaning procedures, take a look at why it is crucial:
How Do You Clean Grout Using a Tile and Grout Cleaning Machine?
After you have invested in a high-quality cleaner, the next concern is how to use it to achieve the best results possible for your floor. Unfortunately, you can hire a professional for those who don't have a grout cleaning cleaner.
Regardless of whether you'll do it yourself or by a professional, here is the proper process to follow:
First, assess your floor to identify where tough stains and spots are that require extra attention during the cleaning process.
Second, vacuum the floor thoroughly to gather all the loose dirt, crumbs, and debris via a powerful suction force.
Third, deep clean the floor using a neutral floor cleaner. The cleaning solution acts on the stains and traps dirt and grit. Keep changing the water to avoid streaks during cleaning.
Depending on the material, spray a specialized grout cleaner solution along the grout lines. With a tile and grout brush, gently brush the grout or use a tile and grout cleaning machine to agitate any deeply set dirt.
It is important to note that various stains need different cleaning methods and solutions, and the same applies to the cleaning agent.
Fourth, using plain water, rinse the floor to remove the extract of the brushed-out dirt and grime. Use a microfiber mop to wipe out the extra water to enhance faster drying.
Lastly, when you are through, leave the floor to air dry. If you have a ceiling fan, you can use it to hasten the drying process. Opening the windows and doors to permit more air will help before setting foot on them.
Factors to Consider When Looking for Tile and Grout Cleaning Machines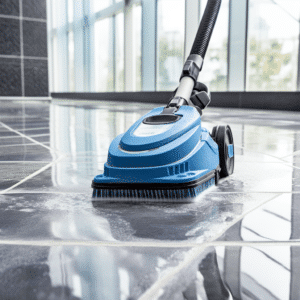 Buying a tile and grout cleaner is essential whenever you apply tiles because scrubbing the tile and grout is arduous and messy. That is why getting a machine as an alternative is an advantage, as it makes the process easier, saves time, and eliminates concerns, not to mention the outcome.
Here are elements to remember while you shop for the tile and grout cleaning machine.
Special Features
Apart from price, the machine should provide different features such as cleaning other surfaces with adjustable pressure levels which are helpful if your floor is challenging. Adjustable water temperatures and pressure levels are substantial too.
It would help if you chose a machine with scrubbing pads that will loosen dirt in the grout. Also, the one that has a steam mop as the powerful bursts of steam will get rid of grout gunk while sanitizing the floor. Ergonomic designs are another feature to consider too.
Reliability
A high-quality grout and tile cleaning machine should combine moisture and heat for an effective cleaning process. The best steam cleaner kills over 99% of bacteria, mold, and other contaminants.
Brushing machines should have brushes to remove organic matter and surface-level dirt. It is better to use a device with a motorized brush attachment.
Warranty
It is best to get a machine that has a current warranty and ensure you have a return policy in case the device isn't working as advertised. It is also a good idea to find out the cleaning action of the machine. Confirm the warranty details before purchasing.
There are several grout cleaner machines in the market, and from the many, we've given you the best, easy to adapt, versatile, and most are multi-purpose machines you can use at home. They contain features that can be truly helpful for more demanding cleaning.
It is crucial to remember all the necessary considerations to choose the best tile and grout cleaning machine for your home.