Unused Fireplace , One of the most eye-catching features in a living room is usually the fireplace.
Unfortunately, we sometimes neglect fireplaces for the years they go without use, but it doesn't have to be that way.
With a bit of creativity, you can transform it into a cozy room within your home.
Keep reading, we will show you how to decorate an unused fireplace so that you can maximize your space and put it to good use.
What to put in an empty Fireplace; Beautify your home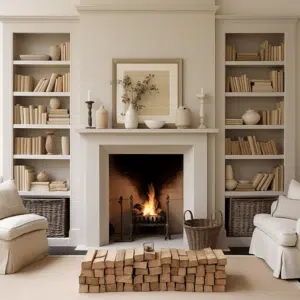 Tired of your fireplace standing idle? There are ways to repurpose your unused space into a beautiful focal point for your home.
You can use throw pillows to fill in any areas of an old fireplace that may look unappealing.
You can find throw pillows with a pattern or solid color. They come in different shapes and sizes so that you can find the perfect fit for your old fireplace.
Wallpaper is a decorative paper used to cover walls. For example, paint the fireplace with white paint, then use large wallpaper to apply it to the wall. You can then paint the wall behind the fireplace in different colors.
Put up an old vintage picture frame with your favorite family photo inside
Hanging pictures of your family and friends on the wall or top of the mantle is a great way to beautify unused fireplace space.
Photos of family and friends can provide a unique way to bring a bit of personal warmth to the room.
This way, when you're in your living room or anywhere in your house, you can see these people.
Use some flowers in a planter
A way to decorate an unused fireplace is to buy some flowers and put them in a planter. It's an economical way to dress up the space.
Choose flowers that will last for a few weeks or months, like tulips or daisies. Make sure the flowers are watered regularly, and if the bottom of the planter is too high, place a plate or a small bowl on the ground to catch the water.
Add a fresh coat of paint to the fireplace
Clean and paint the mantel and grates and add decorative items to the hearth. You can also add a small section of a wreath around the fireplace to cover any exposed plaster.
Cover the mantel with greenery
This is a popular solution, as greenery provides a natural covering for the mantel without detracting from the rustic feel.
In addition, this type of decoration is beneficial for a home with a rarely used fireplace, as it will help keep dust from collecting on the mantle.
A light-colored candle will look great on a fireplace mantle. It doesn't even have to be lit.
Place a couple of candles in a decorative holder and set them on a fireplace mantel. Scatter a few small items around the candles to create a display that's both eclectic and pretty.
The perfect way to add a little aura to a fireplace is by placing a scented candle in a decorative holder and setting it on a fireplace mantel.
Also, scented candles in glass jars are perfect when placed around the fireplace-just remember to blow them out when you leave the room!
Build shelves to create a store
A shelf is also a suitable spot for storing items that might otherwise clutter the room, such as baskets or books.
Some DIY ideas for decorating an unused fireplace include placing a large mirror over the fireplace mantel to maximize the lighting in the room.
The placement of a mirror is crucial when you are using it to beautify a fireplace.
Often, an oblong mirror works best, and you should place it so that the viewer can see themselves in the reflection.
Place it up close to the mantel so that the person will see themselves right at eye level or just slightly higher for a flattering effect.
Old items from the flea market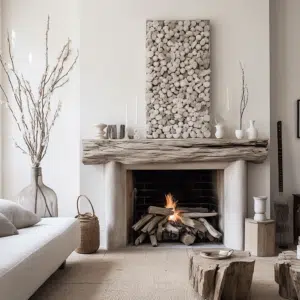 Use flea market finds like a battered trunk painted a bright color to add a touch of shabby chic.
Tie a bit of fabric around the small branches to hide the screws and hide the plug.
Use textured throw blankets
Textured blankets are often made of wool or wool-blend fabrics. They typically come in neutral colors like black, gray, or beige. These textured throws are used to decorate the fireplace in your living room.
Use potted plants, preferably green
Potted plants are a superb way to decorate an unused fireplace. Take a terracotta pot, fill it with potting soil and plant an indoor or outdoor plant in it. Choose small plants so they don't block the view of the fireplace.
You can paint Terracotta pots to match your home's décor, but this is optional.
Add a tray for holding books or magazines
But without something to fill it with, the unused fireplace looks empty and boring. Adding a tray of books is a great way to fill it with practical items that are also visually appealing. This way, you have something nice to read.
Make some decorative tin can lanterns to hang over the mantle
In this project, you will make a beautiful home decor item from tin cans. Tin can lanterns are perfect for wintertime and can also be made for any time of year.
All you need is a few papers, cans, twine, and a few tools. Start by drawing a pattern on the outside of a can, then cut out the pieces with a sharp knife. Next, punch a hole in the top to hang your lantern.
An unused fireplace is an eyesore. One way to beautify a new fireplace is by including scented candles, flowers, and a mirror.
Items such as a planter or a small rug can also help to create a welcoming atmosphere.
Of course, an unused fireplace will only look worse if cluttered with objects that are not useful or attractive.
Always remove items that are unnecessary for the fireplace's use. Beautiful fireplace mantels are the perfect way to personalize your hearth.