Dunn Edwards vs Benjamin Moore Paints, Choosing the best paint for your home is a crucial task that homeowners wish to get right. While it might sound easy, it is not.
Have you ever walked into a paint store only to be overwhelmed by the variety of options? We have all been there. I mean, how could there be so many different shades of white? 
With new brands emerging and existing ones expanding new lines, selecting paints has never been more challenging.
It is even more daunting if you don't know what to look for. When choosing one paint over another, you have several factors to consider, like quality, coverage, and durability.
In this guide, we will compare Dunn Edwards vs Benjamin Moore to determine which is the best.
Dunn Edwards Vs. Benjamin Moore Paint Guide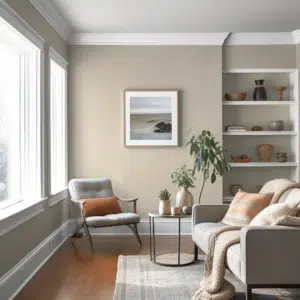 Generally, it is impossible to compare brands as a whole since they differ in various levels and performance.
This is why you need an experienced painter's opinion before buying paints for your home. Here are a few aspects to consider when choosing paints.
Dunn Edwards and Benjamin Moore are among the leading paint manufacturers in the United States.
These brands have top-quality paints for both interior and exterior surfaces. But which is the best paint between these two? Are they equal in quality, or is one superior to the other?
Paint Type
Both Dunn Edwards and Benjamin Moore have a variety of exterior and interior paints for both residential and industrial use. 
Dunn Edwards
This brand has superior paints formulated from exceptional ingredients for maximum performance.
There are various categories of interior paints, including premium, deluxe, professional, ultra-premium, and specialty. For your interiors, the Everest line is the to-go paint.
With zero VOC, the application process is quite easy. Besides, it also has a low odor and is resistant to staining.
Dunn Edwards understands that exterior paints should withstand extreme weather conditions and continuous abuse.
For external use, Evershield offers maximum protection. It boasts of ultra-low VOC and is 100% acrylic, thus protecting against water, cracking, UV color fading, and mildew.
Evershield also has high gloss retention, thus preventing dirt from sticking on the surface even in hot climates. Versatility is also one of its many benefits. You can apply it on wood, metal, concrete, stucco, plaster, and block.
Benjamin Moore
For interior paints, you need high sheen products that are resistant to staining and mildew. Benjamin Moore's paints never disappoint. It comes with four product lines of interior paints consisting of Aura, Natura, Regal, and Ben Interior. You are assured of getting paints that match your style and living conditions.
Paint Coverage and Durability
It is a common saying among professional painters that you can trust paint for what it is worth. 
Both Dunn Edwards and Benjamin Moore are high-end paints that have better coverage and higher durability.
They take longer to dry, thus allowing the colors to level. As a result, the paint strokes become less visible for a smoother finish
The pricier the paint, the higher the quality. With quality paints, you can expect thick consistency.
This improves the color blocking ability, which equals fewer coats, less material, less time painting, and low labor costs. One gallon of Benjamin Moore paint can cover about 400 sq ft. However, you will need a second coat for better coverage.
Both brands can last up to ten years when applied correctly, thanks to their superior adhesion and excellent hide.
Color Selection
A wide color selection is what makes choosing paint colors exciting or challenging.
Since both Benjamin Moore and Dunn Edwards are among the nation's top paint brands, you can expect the best color fan decks from both. With their massive selection of colors, color matching is not an issue.  
Dunn Edwards has more than 2,000 colors in the perfect palette for easy navigation.
Feeling confused about how the paint will look on the wall? Dunn Edwards has a range of tools that help with the identification and visualization of colors.
On the other hand, the Benjamin Moore brand features over 3,500 fresh and authentic colors.
This plethora of colors might be overwhelming to DIYers. However, you can use the Benjamin Moore Color Portfolio App and ColorReader device to pick colors that match your home décor and style.
Washability
When it comes to washability, both Benjamin Moore and Dunn Edwards offer excellent washable paints.
They are easy to clean off dirt and stains like coffee spills. All the four Benjamin Moore paint lines like Aura are cleanable even in flats, eggshells, and mattes sheens.
Furthermore, the color lockA technology prevents any color from rubbing off.
The Dunn Edwards washable paints are made using Chromastay technology, thus making them cleanable and long-lasting. It also guards against stains and possible color rub-off.
Availability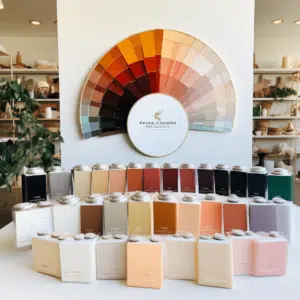 When it comes to Dunn Edwards vs. Benjamin Moore, the availability of the paints is also a factor to keep in mind.
As a painter or homeowner, you need the convenience of getting the paint you want from your local paint store.
Although both brands are reputable names in the industry, they differ in their availability.
Dunn Edwards is only available in the southwestern United States.  Over 151 company-owned stores and dealerships sell these paints throughout Montana, Kentucky, Texas, Nevada, Arizona, Utah, California, Oregon, Wyoming, and New Mexico.
With Benjamin Moore, you can find their paints throughout the country through independent retailers.
This means that you won't find it in your local Home Depot or Lowe's. It features a distribution network of more than 4,000 stores in North America.
Ease Of Workmanship
High-quality paints don't require any special skills to apply. Benjamin Moore and Dunn Edwards are both excellent options for beginners due to their excellent coverage.
Cheap paints translate to poor workmanship. They tend to run, drag or stick, thereby resulting in a sloppy job. 
Sum Up
When selecting Dunn Edwards vs. Benjamin Moore paint brands, there are other factors to consider.
Each brand features various product lines with different qualities and different price tags.
Before settling on a particular paint, it is crucial to consider its coverage, durability, color selection, availability, and paint type.
Both brands are high-end products and will look amazing on your walls. Just ensure that the paint you choose meets all your needs.