Cherry cabinets modernization, Did you know dark cabinets with silver handles make them classy and modern? Cherry cabinets have been at the forefront of kitchen design for quite some time. Thus, if you seek to upgrade your cherry cabinets to a modern feel, keep intact and get to learn some ideas!
Cherry cabinets portray a smooth, close-grained appearance with a relatively uniform texture. The cabinets are crafted from the popular cherry hardwood known for its unique aging process, stunning warm tone, and rich look.
When left unstained, cherry cabinets usually darken and turn the darker areas reddish-brown, whereas the lighter areas of the wood turn more yellowish-brown. With the cherry cabinets still installed within the kitchen, you can bring them up to date by integrating fresh new design ideas.
Cherry Wood Cabinets
The cabinets are beautiful and ideally suited for a warm and elegant space. Cherry cabinets are available in an array of colors as the cherry wood readily accepts a finish such as staining. More so, cherry cabinets exude elegance and stunning visual appeal.
How to Make Cherry Cabinets Look Modern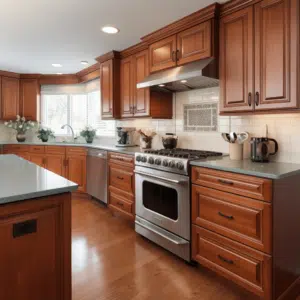 Without further ado, if you wish to modernize your dark-toned cabinets in your kitchen, below we outline great ways to give your kitchen space an open feel and look modern.
Change The Backsplash
For a quintessential modern look, install a white subway tile backsplash within the cabinets. It is a popular and timeless choice.
To aid your cherry kitchen cabinet stand out in contrast, you can try to add a bright and bold color backsplash as a homeowner.
Purchase New Appliances
There is no better and direct way to instill the modern look in your kitchen than by introducing new versions and models of appliances such as a fridge and lighting fixtures. Having newer kitchen appliances alongside cherry cabinets enhances an overall upgrade. Introduce devices that fit perfectly in spaces outlined by the cherry cabinets.
Swap Out The Hardware
Change the hardware on your cabinets to update their appearance. Incorporate new models of hardware such as kitchen knobs, pulls, and hinges. Apart from being functional hardware, the pieces of hardware play an integral part in your cabinets' overall aesthetic and decorative feel.
Customize the hardware for both the appearance and functionality of your cabinets. Changing special hardware triggers an update to their appearance.
Add White Upper Cabinets
Adding bright colors in the kitchen promotes an overall new look. In addition, it increases the light you have in a kitchen.
Consider Structural Changes
Increasing the height of the cabinets or adding corbels to the kitchen cabinets could bring out the diverse modern feel.
Increase the cabinet's visual size by adding crown molding to your top kitchen cabinets. Alternatively, you could add a valance to the bottom part of the upper cabinets to install lighting under the cabinet for a more dramatic appeal within the kitchen.
Add Beadboard
Beadboard aid in transforming the aesthetic impact of a décor piece. Integrate the beadboard within the kitchen to add some texture to cabinets. You can opt to have the beadboard the same color at the interiors. Introduce the beadboard to cabinet doors or as a kitchen façade to achieve a preferred stylish look.
Replace Countertops
Selecting the best countertop is imperative. You can ideally match the cherry cabinets with trendy and stylish countertops. Some of the well-known countertop ideas that perfectly match with any type of cherry cabinets include;
Ivory Brown

Gold Antique

Light-colored Granite

Dark-colored Granite
Cherry cabinets modernization is crucial to avoid clashing color combinations. Placing red countertops with red cherry cabinets overpowers the natural beauty of the wood. Integrate white or beige countertops for a classic look.
Paint The Cabinets
Color patterns on cabinets portray an array of customized themes within the kitchen. Darker, matte kitchen cabinets tend to showcase a more modern appearance. Pastel colors characterize a more rustic design. The right color entirely depends on the look you want to achieve.
Painting initiates creativity as it amalgamates chalk paint for a more pleasing aesthetic feature or personal touch on the cherry cabinets. Neutral colors enhance warm undertones.
Gel Stain The Cabinets
Cherry cabinets modernization wish to attain a refreshed and revamped look, staining the cabinets with gel is the way to go. Sand down the cabinet frames and doors. Clean after sanding, apply stain for four coats, and finally, add a poly satin finish for a sterile seal.
Add Height
Did you know changing the general shape of your cabinets ensures you get a new look within the kitchen space? Adding height eliminates the open spaces within the kitchen. Thus, you gain more storage spaces. Taller cabinets are great for modern small kitchen layouts.
Pros Associated With Cherry Cabinets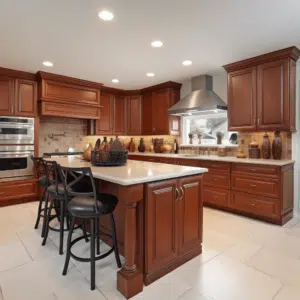 Durability: Cherry wood is strong enough for long-term use. Cabinets made from cherry have a medium level of strength. They are heavy, complex, and can keep up with the wear and tear of mundane use.
Middle price range: Cherry cabinets are neither expensive nor cheap. They are more affordable cabinets made from dark woods. Cherry wood cabinets are widely available in the market and online shops.
Aesthetic value: Cherry cabinets are made from high-quality wood with positive attributes. The cabinets are unique as they coalesce elegant colors and deep undertones associated with luxury. Its natural richness produces a cozy ambiance.
Uniqueness: Cherry wood cabinet beauty increases as it ages. Cherry wood develops a lustrous patina that deepens with age.
Versatile: Cherry cabinet style works well with various design concepts. Cherry wood looks are flexible enough to match with varying color schemes and easily tie the prevailing kind of space.
Cons Associated With Cherry Cabinets
Prone to termite attacks

It is not water-resistant

Tendency to be scratched over time
That's a wrap on the things you can do to make your cherry cabinets look modern! Make your cherry cabinets pop as you integrate some of the mentioned ideas.
Conclusion
Cherry wood cabinets are mainly chosen for the aesthetic appeal of their distinctive wood grain.
Homeowners can modernize the darkened appearance of the cherry cabinets by adding white or beige countertops and kitchen backsplash to balance out your kitchen space. Paint your cherry kitchen cabinets for a complete overhaul.