Penny Tile Shower are a classic comeback from the 1900s in the contemporary world of tiles. They are used in the bathrooms and kitchens, creating an atmosphere with a classic and retro vibe.
Penny tiles are popular, made from porcelain which can be glazed (patterned mosaic has either satin or gloss finish) or unglazed (remarkable for adding to historical, conventional home décor. Penny tiles can be made from other materials such as metal, glass-ceramic, cork, and stone.
Glass penny tiles are a fabulous, refined choice for every space, but they readily crack and become slippery, posing a danger to walk on. Metal tiles are an attractive choice that creates a stylish style for all rooms.
A penny tile shower assures an eye-catchy even though it is a style from the old past, which offers a special element. However, is it the best option? We shall see that in our subsequent sections.
Pros and Cons of a Penny Tile Shower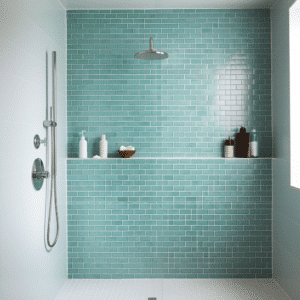 A penny tile shower is an aesthetically interesting articulation to your bathroom, but its drawbacks. So before you jump into the decision of having penny tiles in your bathroom, scrutinize keenly whether the advantage outweighs the shortcomings.
Pros
If penny tiles are your shower choice, here are the benefits that you can reap:
Non-flip surface– They are a perfect fit in wet and high traffic areas, which will be great for the bathroom.
Durable- because they are glued down to the floor with tile sealer or epoxy, making it firm and durable
Stylish- It offers remarkable tile shapes and styling to the shower aside from the visual attraction it brings to the bathroom.
Accessible- materials for penny tile showers are available in the market.

Flexible- Its design blends with any style, from classic to contemporary
Variety of colors and Patterns- Penny tiles come in a diversity of colors and patterns, depending on your taste and inventiveness 
You can choose bold colors with a subtle or tile design. Matte and glossy are both possible if you are considering the surface.
DIY- friendly– Only if you know how to go about it will challenge your creativity.
Cons
Penny tiles are mostly used in the bathroom because of their benefits, but like any other thing, it has their downside, as we will see right away.
Expensive- it is pricier compared to regular tiles. The pre-placed and designed penny tiles are cheap but demanding when it comes to labor, so getting the professionals to do the job increases the cost.
Complex to install and remove- The installation process is demanding and time-consuming and requires a proficient person. 
It is glued to the floor to be durable; thus, removing it is super hard.
Rigorous cleanup and maintenance- Penny floor tiles are prone to several grout lines to cover; therefore, cleaning needs a lot of time and astringent touch to bring out the appealing effect.
Problems with a Penny Tile Shower Floor
In the bathroom, penny tiles are highly ranked for they look great both in the traditional and modern bathrooms. They add a lovely texture beneath the feet on the shower floor and can be done on the walls.
The primary problem that you might face when you choose a penny tile as your shower floor tile is difficulties in maintenance because of the many groups. Grouts contribute to the general look of a bathroom, so the hurdle of cleaning the grouts is tedious.
 The process of installing penny tiles is hectic and time-consuming.
Depending on the material used in the penny tiles, some, like glass, can easily crack, posing a danger to you while in the shower.
We all adore penny tiles, but you can tell from the article that despite their problems, it doesn't overpower the benefits; they are more complex too than other standard tiles from the method of installation, cleaning, and several grout lines. Hence it is good to use a professional to avoid bummers, go with darker grout for easy cleaning, and you won't encounter any difficulties.
8 Hints for Bathroom Tile choice
With the availability of many options, selecting a suitable bathroom tile can be overwhelming. Here is a write-down to help you save the hassle for a perfect match.
Budget- This will assist you in narrowing your options from the varieties present.
Tile material- It is essential to consider durability, maintenance, style, installation, and cost when deciding on material. Each tile has its pros and cons, so only you can determine the tile that suits your lifestyle, needs, tastes, and preferences.
Due to the water aspect, moisture, and heat, choosing the right tile material will be like porcelain, ceramic, stone, and glass tiles. Bear in mind the slip resistance. Go for tiles with small grout for they create a non-slippery floor.
Location- where you want tile is crucial. For instance, is it on one side of the wall? Is it the entire floor? Etc. The place you will place the tiles will help you determine the right type of tiles.
Color scheme-You need to consider other furnishings and décor in the space like light fixtures and hardware. Do light colors to neutral in that you can add pops of color with fixtures and towels.
Light colors create an illusion of space in the bathroom.
Tile size, shape, and layout– select a large tile for a small bathroom to feel larger. Small tiles will draw the aesthetic appeal but are hard to clean because of the many groups.
The shape enhances the elegance while style is how you would love to lay them, which can be either vertical or horizontal, or both.
Maintenance- A tile that makes you have constant worries concerning cleaning or damaging is a no. Buy the tile material that can withstand wear and tear.
 The right grout-Choose a grout that contrasts or blends in with your tile of choice for two various looks. Remember, maintenance and color is key at this point.
Details- Consider every detail from the layout, color, pattern, and grout to the finish, for these factors will impact your decision.
Pros and Cons of Penny Tiles
Below are the pros and cons of penny tiles
pros
The tiles offer a slip-resistant surface

They are exceedingly durable

Penny tiles are fashionable and go well with both contemporary and classic styles

Materials for penny tiles are easily accessible on the market.

They come in a vast selection of colors and patterns.

The installation of the penny tiles is a do-it-yourself task
Cons
Penny tiles are expensive

Since the penny tiles were designed to be highly robust and weren't intended to be removed easily in the first place, removing them can be a significant problem.

Since there are numerous grout lines to clean on these floor tiles, cleaning will take a long time and require careful attention to detail.
How To Lay Penny Tiles On a Shower Floor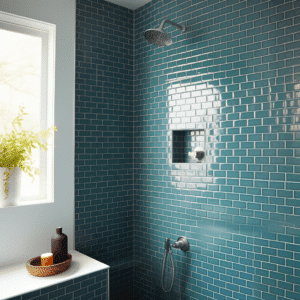 Below are the steps that will help you lay penny tiles on a shower floor:
Start by preparing the floor. When installing the penny tiles over an existing surface, you must ensure that the surface is free of any imperfections and is clean of debris.

Mix the mortar. Mix the mortar with water until you get the desired consistency. Depending on the mortar type, you might need to allow some time for the mortar to react with the water to get the desired results.

Apply mortar. The mortar should be applied using a correctly sized notched trowel. Ensure that the mortar is spread evenly.

Install the penny tiles. Press the penny tiles onto the mortar using a twist motion and press it using a rubber mallet so it can adhere to the mortar. Leave the mortar to dry for at least 24 hours and avoid stepping on the penny tiles.

Grout the tiles. After 24 hours you can grout your penny tiles. Utilize a grout float to apply the grout into the joints.

Seal the grout. For better results, ensure the grout is sealed within 72 hours after it has been applied.
Glass Tile Shower Floor Problems
The problems you are likely to encounter with glass tile shower floors include:
Glass tile shower floors can be slippery when they are wet.

These tiles require a higher budget than other tile materials

The glass tiles are also more susceptible to breakage compared to other materials
Is Penny Tile Good For Shower Floor
Because of the additional texture and friction provided by the numerous grout joints in between the tiles, penny tiles are ideal for a shower floor. They are also incredibly resilient to wear and tear due to their durability.
Are Penny Tiles Hard To Clean?
Because of the tiny grout lines that separate each of the penny tiles, cleaning a penny tile shower may take a long time and effort.
Take your time and be thorough when cleaning each grout joint.
Styling Penny Tile Bathroom
Styling a penny tile bathroom is not a hard task. You can select penny tiles for both floor and walls of the bathroom, whether they are of a similar color or a different one. However, if you want to contrast, you can use the grout alone without needing different colors for floor and wall tiles.
Below are some considerations for patterns and colors:
Cozy blue penny tile matched with white grout

Neutral white penny tile matched with black grout

Eye capturing black penny tiles with white grouts
Finally, it would be best to think about your space, size, appeal, and décor. Get the perfect tile for your bathroom and enjoy the reward of your decision and choice.