Hampton Bay Ceiling Fan Light Bulb Replacement, Do you have a light bulb in the Hampton Bay ceiling fan in your home? Are you looking for a suitable method for replacing the Hampton Bay ceiling light bulb? Well, most people prefer changing light bulbs by themselves.
The good news is that the replacement process is a simple procedure, as most Hampton Bay ceiling fans are designed with light fixtures.
If the bulb in your Hampton Bay ceiling fan has burned out, or you want to replace it with a more energy-efficient bulb, all you need to do is follow some basic steps.
How To Change Light Bulb In Hampton Bay Ceiling Fan: Step by Step Guide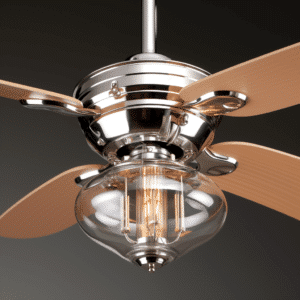 It is important to learn how to change bulbs in a safe way without damaging any object or causing harm to yourself. Below are the tips to follow on how to change light bulb in Hampton Bay Ceiling fan:
Step 1
The first thing is to make sure you have all the necessary tools for the task. In this case, you will need a set of gloves, a screwdriver, and obviously the new lighting fixtures.
Step 2
Switch off the fan and the lighting fixture on the fan. You don't want to experience a shock during the first day while changing the light bulb. Position your ladder in a way that enables you to reach the ceiling fan without stretching your hands too far.
Step 3
If you want to replace your Hampton Bay ceiling fan in an outdoor patio or gazebo, then it's not much of a hassle. Carefully stand on your step ladder and unscrew the unwanted bulb by turning it to the left.
Remove it and insert the new bulb by screwing it into the fixture, twisting to the right. Ensure that the new bulb is tightly fixed in place.
Step 4
If you're looking to replace a globe or a shading fan, then the task might be a bit more involving. Using your screwdriver, take off the screws that hold the globe in place. A Hampton Bay ceiling fan usually has three screws in a row.
Note that you will need to have one hand on the globe to keep it from falling. Put both the globe and the screws in a secure location.

If you're working on an older brand, which uses clips to hold the ceiling fan light cover in place, consider applying a little pressure on the clips to have them removed.
However, be careful not to damage the light cover. Then follow the steps on changing an open-shaded bulb to do the replacement. Clean your globe dry and then fix it in place.
Step 5
The fifth and last step is to examine the light. If it turns on when you switch the lights, then congratulations, you've made it. However it fails to light, then either the bulb is faulty or you've installed it wrongly. Consider installing another bulb to see if it works.
What to Know About Hampton Bay and Its Ceiling Fans
Hampton Bay is a popular brand that has been around since 1986. It has been present since the time and has been owned by Home Depot. Aside from making fans, the company has ventured into home furniture.
Hampton Bay ceiling fans are offered in many options for size and feature, which include indoor and outdoor models that come with or without lights and remote control, stylish wall switches, weather-rated, and many more.
Note that not all Hampton Bay ceiling fans are equipped with light bulbs. Even the ones that feature a light function still may not include a light bulb in them. So, before making a purchase, be sure to read the product description.
This will help to ascertain whether the bulb in question has an additional light bulb or not. It is also recommended that you opt for eco-friendly LED light bulbs, given that they not only save you on the electricity bill but are also environmentally friendly.
Hampton Bay Ceiling Fan: Buying Guide
Similar to any other purchase, there are several factors you may want to consider when buying a Hampton Bay Ceiling fan. After all, one of the best ways to get the most out of your home is to make sure you have the right kind of ceiling light bulbs mounted.
The Hampton Bay ceiling fan light bulb is probably the best option. When purchasing, consider the following:
Get the Right Size
The point here is to find the ideal size of a light bulb for the fan before working on the replacement. One sure way to achieve this is by taking the base of the bulb you want to change.
Once you have determined the base size, the next thing is to pick the right sized bulb for your fan. The maximum output for a Hampton Bay ceiling fan light bulb is between 60 W and 40 W. Nonetheless, it is always a good idea that you confirm the manufacturer's specifications.
Consider Upgrading to LED Lights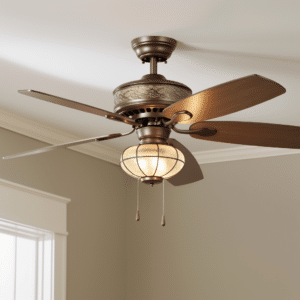 LED light bulbs are often considered the best alternative because they help cut down the energy cost and conserve the environment. Technology is dynamically changing and finding a CFL light bulb to replace your current unwanted bulb can prove a challenge.
Luckily, there is a solution to this problem. The lamp technology has an even better alternative, the LED light. The best thing about this light is that it is energy-efficient and will perform nicely with your ceiling fan.
 Conclusion
The Hampton Bay Ceiling fan brand is concerned with styling the modern-day home and making it livelier. Moreover, you don't have to struggle to replace a light bulb. We are positive that this article has been of great value, and now you can comfortably change your Hampton Bay Ceiling fan.